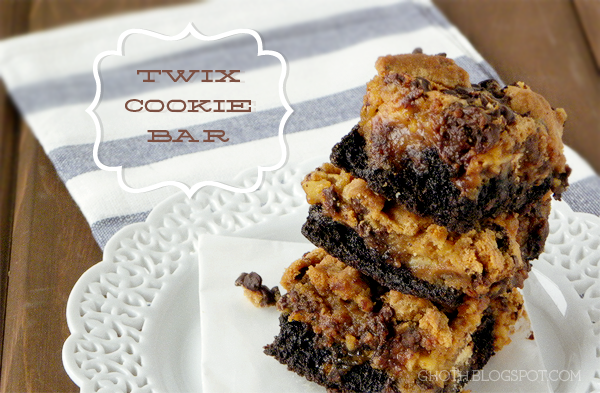 I went to my first
ever
Super Bowl Sunday this past weekend at my friend Ana's and I was asked to bring a dessert. I decided to bring a fruit platter with
marshmallow fluff dip
and a side of cookie butter, but I also wanted to bring something chocolatey.
I was instantly hooked to a dozen recipes while browsing
Bakers Royale
and decided that since I was short on time, I would go with
twix cookie dough cheesecake bars
. I loved that the recipe used pre-made ingredients for those that are short on time (like I was) but I'm sure it would taste even better if you used homemade cookie dough with homemade caramel.
The Twix cookie bar turned out really sweet, but oh so good. Great with a glass of milk. Even though I was filled to the brim with Ana's delicious homemade nacho bar and grazing at the fruit and veggie tray all through the game, I was able to stuff a small piece of it. I literally could not move for hours after that!
Highly recommend making these or pretty much anything on
Bakers Royale's
page. Her desserts do not disappoint!
Twix Cookie Bars
recipe from
bakers royale
Crust and topping
one 16-oz. package of ready-made chocolate cookie dough
one 16-oz. pacakage of ready-made chocolate chip cookie dough
5 Twix, king size packages or 8 regular packages
Cheesecake layer
8oz. cream cheese, room temperature
1/3 cup sugar
1 egg
1 teaspoon vanilla
1/3 cup caramel sauce (
I used the one from Trader Joe's
)
1/3 cup mini chocolate chips (for topping)
Create a sling by lining the pan with foil so that there is a one inch overhang on each side. Cover foil with bake spray.
Heat oven to 375 degrees F.
Cookie Crust:
Flatten chocolate fudge cookie dough to a 1/4 inch thickness using a rolling pin. Pinch off chocolate chip cookie dough into pieces and then drop it on top of fudge cookie dough. Using a rolling pin roll chocolate chip cookie dough into chocolate fudge cookie dough; set aside.
Cheesecake:
Add cream cheese, sugar, egg, vanilla and caramel sauce into a bowl and beat until blended. Set aside.
Assembly:
Cover the bottom of the pan with a little more than three-quarters of flatten dough. Set aside remaining dough to sprinkle on top. Place Twix bars side-by-side directly on top of crust.
Pour cheesecake mixture on top. Crumble remaining cookie dough and sprinkle on top of cheesecake layer along with remaining 1/4 cup of mini chocolate chips all over top.
Bake for about 30-40 minutes at 375 degrees F. Remove from oven set on wire rack to cool.