LA was an amazing trip and kinda sad it has ended, but also so glad to have returned home. Aside from cooking some meals for my brother, cookies has been requested, especially a batch of
S'more Cookies
. I was home to actually surprise my Mom for her birthday and even though I was the actual present, my Mom could never turn down some cookies. My Mom doesn't like milk or dark chocolate, let alone white chocolate, but thought these trail mix cookies were a "healthier" choice. The boys exclaimed how delicious they were and with my brother's palate, his opinion is definitely important and he never lies to me.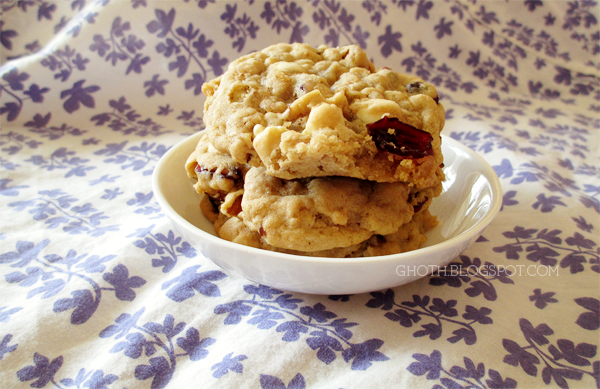 Trail Mix Cookies
original recipe from
country cleaver
2 cups Flour
¾ tsp Baking Soda
½ tsp Salt
1 cup Brown Sugar
½ cup Sugar
10 Tbsp Butter, cubed
2 Eggs
1 Tbsp Vanilla
1 cup Oats
1 cup White Chocolate Chips
½ cup chopped Almonds
½ cup Dried Cranberries
Preheat oven to 350 degrees. Place oven racks on middle top and middle bottom racks. Line two baking sheets with parchment or silicone liners.
In a medium bowl whisk together flour, baking soda, salt and oats. Set aside. In a stand mixer combine brown and white sugars. On medium low speed, add in butter and cream until light and fluffy. Add eggs one at a time, mixing for 30 seconds in between. Add in vanilla extract. Slowly add in flour/oats mixture until just combined. Add in white chocolate chips, pecans and dried berries. Mix until just incorporated.
Place in fridge to chill for 20 minutes.
Scoop out ¼ cup of dough and roll into a ball. Lightly press into the cookie sheet until 1" thick. Add about 8 cookies per sheet.
Place cookies in oven and bake about 10 minutes. Rotate and switch cookie sheets onto opposite oven racks and bake an additional 10 minutes or until golden brown. Remove from oven and allow to cool on wire rack until cool.