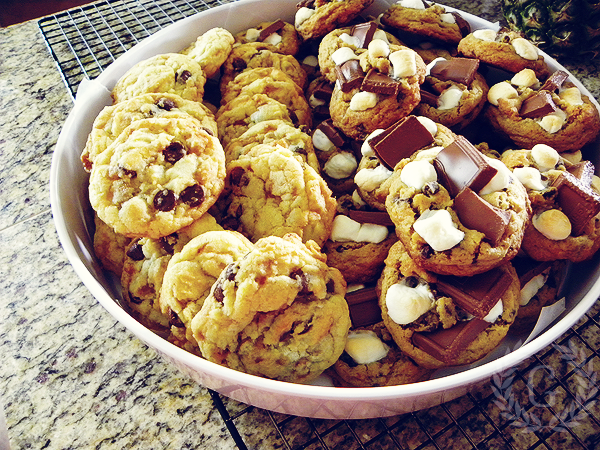 An oldie, but a goodie. These cookies were a
huge
hit in our last company and I made them for a lot of the holiday events, cook outs and my last event was the Halloween party which I made over 6 dozen of these bad girls. Just last month, I made these cookies to surprise a special birthday girl (Hi Nala ♥). These cookies
never
fail me and they always win over the crowd. We had a BBQ this past weekend and I made a fresh batch that morning and they were a huge hit among the competition cookie (on the left), chocolate chip toffee cookies. The only thing I did different was used a different chocolate bar in this recipe, but for old times sake, you can use Hershey's.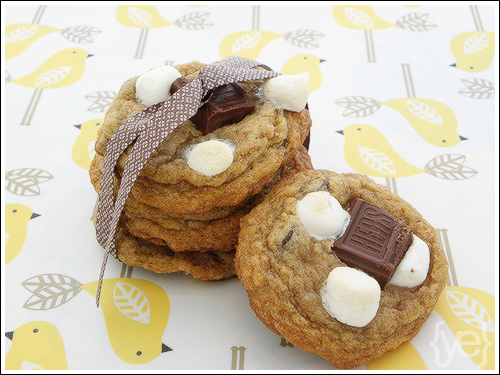 S'more Cookies
1 3/4 cups all purpose flour
1 cup graham cracker crumbs
1 teaspoon baking soda
1 teaspoon salt
1 cup (2 sticks) butter, softened
3/4 cup sugar
3/4 cup brown sugar
2 teaspoon vanilla extract
2 eggs
2 cups miniature chocolate chips
1 1/2 cups mini marshmallows
2 Hershey bars, chopped
In a stand mixer, combine the butter and sugars until fluffy. Mix in egg and vanilla until combined. Add the flour, graham crackers, salt, and baking soda, mix well. Stir in the chocolate chips. Refrigerate dough for about an hour OR 30 minutes in the freezer.
Preheat oven to 375ºF.
Drop by rounded tablespoon (I use an ice cream scoop) onto cookie sheets. Bake for 8 minutes, remove from the oven. Push 3 to 4 marshmallows and a few pieces of a hershey's bar into each cookie. Return to the oven and bake an additional 2-3 minutes until fully cooked. Cool cookies on a wire rack. Makes 3 dozen cookies.