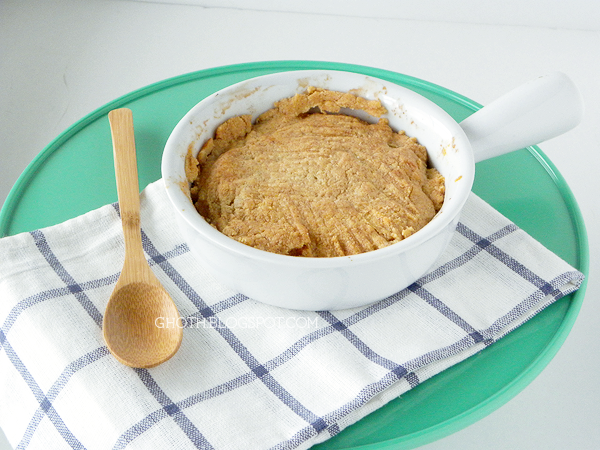 Awhile back, my friend Ana asked my friend Noel and I to go on a 10 day sugar detox. In the end, Ana backed out since she just had a baby, is breastfeeding and was hesitant on it. With that said, Noel and I went forward with the detox and let me just say, it was not fun. At all. We had salami and cheese parties, drank lots of water and cried about not being to eat fruit. The only fruit allowed was granny smith apples, green tipped bananas and grapefruit, but only one serving per day. I am a huge snacker, so not allowing to snack was a tough one. I had an apple left and looked through the
21 day sugar detox
book for a dessert recipe. The recipe itself was extremely easy, but I wasn't a huge fan of it, but since I was on a detox, it helped curbed my sweet tooth for a bit. If you like tart, this apple crumble is for you!
Granny Smith Apple Crumble
recipe from
21 day sugar detox
Filling:
4 green apples, peeled and thinly sliced
juice of 1/2 lemon
1 tsp ground cinnamon
Topping:
1 1/4 cups almond meal
1/4 cup unsalted butter
2 tsp ground cinnamon
pinch of sea salt
1 TBsp unsalted butter, melted, for the pan
Preheat oven to 350F
Make the filling:
In a mixing bowl, toss apples with lemon juice and cinnamon.
Make the topping:
Mix together the almond meal, butter, cinnamon and salt until completely incorporated.
Brush bottom and sides of a 9x9 dish with the melted butter.
Place the apples in the baking dish and cover evenly with the topping.
Bake for 20 minutes covered with foil, then an additional 25-30 minutes uncovered.