Friends! I have started a new journey. I've been
working out
. I KNOOOOOW right? I recently joined Curves and I'm on week 2, but as you're reading this, I'm on week 3, but I'm actually on vacation in LA.
I haven't tried too many of the recipes, but these meatballs were really good! I added a bit of salt & pepper and used panko instead. In some of the meatballs, I stuffed some mozzarella pearls in the middle and this is a great dish with some pasta too.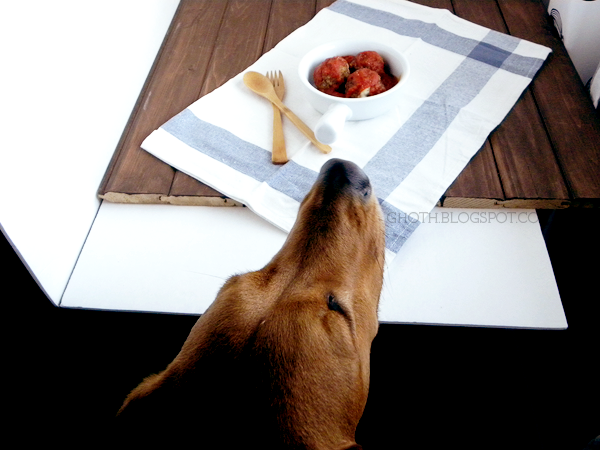 Frankie really wanted some meatballs too
Baked Meatballs w/ Tomato Sauce & Mixed Vegetables - 2 serving(s)*
recipe from Curves Complete
2 slice(s) bread - whole wheat
1/2 onion(s) - medium
10 oz beef - ground (95% lean)
1/2 cup(s) egg substitute
1 cup(s) sauce - tomato (meatless)
2 cup(s) vegetables - mixed, fresh
Preheat the oven to 375°F. Crumble bread into bread crumbs. Dice onions. Gently combine ground beef, bread crumbs, egg substitute, and diced onions. Wet your hands and form into meatballs. Brown the meatballs on the stove, and finish cooking in the oven for 20 minutes, or until the meatballs are cooked through and reach an internal temperature of 165°F.
Place a steamer insert in a saucepan and fill with water to just below the bottom of the steamer. Cover and bring water to a boil. Place mixed vegetables in steamer insert and cover. Steam for about 5 minutes or until tender.
Top meatballs with warmed tomato sauce and serve with steamed mixed vegetables.
Tip: 1/4 whole = 1/4 cup chopped onion
*Directions are only for one serving.