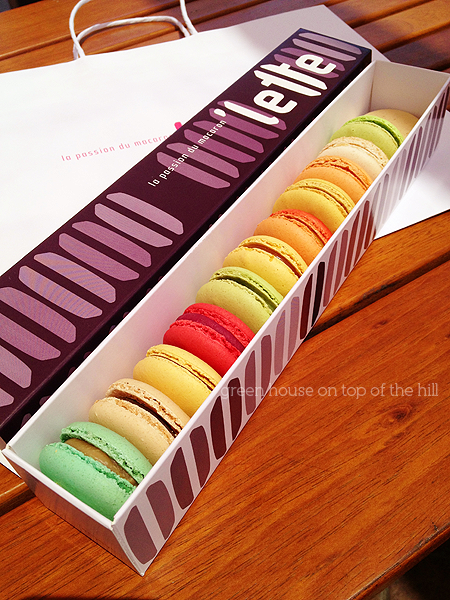 I haven't seen the bride to be in almost a year so we made sure to set aside a day just for us. Hang out, catch up, EAT and of course do wedding stuff. We decided to head out to Fashion Island to shop around and I really wanted to go to
True Food Kitchen
. One of our stops was
'lette macarons
and it was so delicious! Jeannie bought a dozen and shared 4 of them with me... I got the coffee one (seriously amazing!), caramel, raspberry and earl grey. Was a little disappointed in the earl grey though. Maybe I'm just unfamiliar with earl grey in general.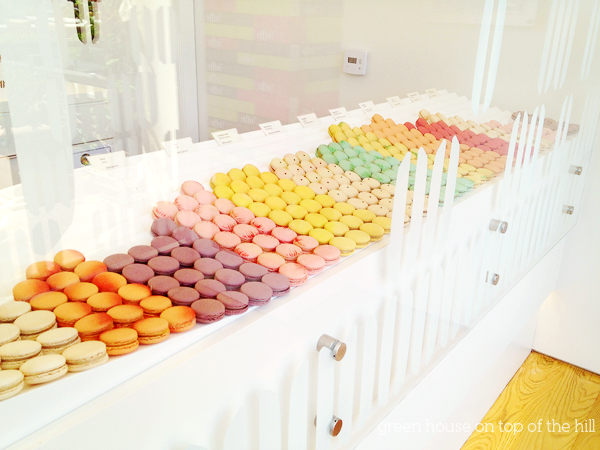 One of my current foodie pet peeves? People who keep calling them macaroons. *roll eyes* I'm sorry, I've become one of those people now.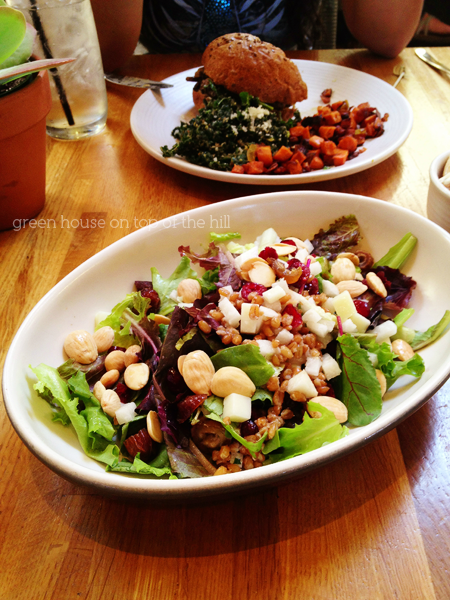 After some sweets, I was hungrrrry and the crankiness was coming out. On top of that, it was another hot day in Southern California. True food kitchen was so COOL! Everything from the tables, to the decor to the open kitchen... Even the food was delicious. I started off with their kale aid which has kale, apple, cucumber, celery, lemon and ginger. I skipped the ginger. I ordered their chicken chopped salad with the chicken on the side. Best salad I've ate in awhile. It has the salad part with manchego cheese (first time having it and i love it), dates, dried cranberries, jicama, marcona almonds, farro and champagne vinaigrette. Jeannie wanted to come here because she's trying to eat "light", but she ended up ordering their bison burger with a side of kale salad and sweet potatoes.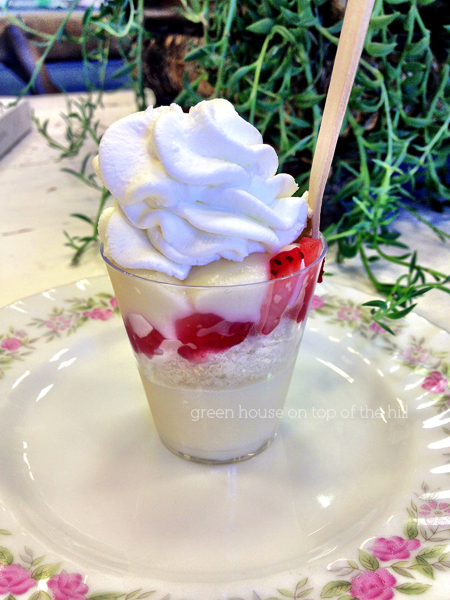 Since we were sort of in the area, we went and checked out
Sweet and Saucy Shop
in Laguna. What a sweet shop it is! Jeannie tried their strawberry shortcake in a shot glass and OMG this trumped both of my desserts. It was light and the strawberries were so fresh. It was
that
good where she ate another one. I, on the other hand chose passion fruit panna cotta mainly because I've never had it before and it was extremely tart! Tart to the very last bite. I chose the mini s'more cupcake... mainly for show. Plus, if you 'like' them on facebook, you get a cupcake for free. The cupcake was okay. Loved the marshmallow goodness on top. This cupcake shop is extremely far, but we're glad we came by to try out their sweets.
After all the eating, we went back home to pick up her cousin and do some wedding stuff. I think I was there til about 1:30am decorating tumblers for out of town guests. KPOP + Wedding duties makes the time go by a whole lot faster that's for sure.
True Food Kitchen
451 Newport Center Dr
Newport Beach, CA 92660 | 949.644.2400
Website
Sweet & Saucy Shop
7922 E Pacific Coast Hwy
Newport Coast, CA 92657 | 949.715.0920
Website