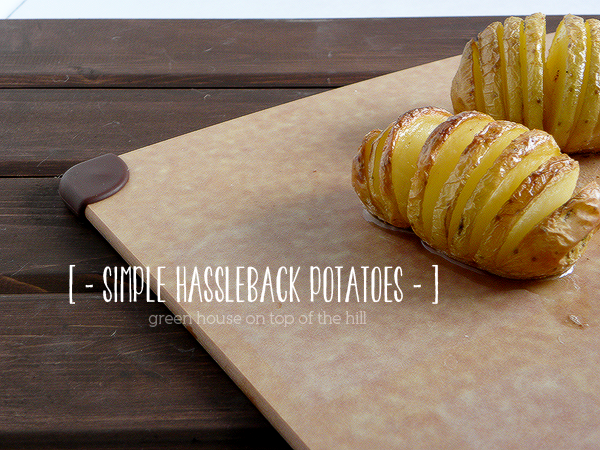 I'm sure you've seen the gazillion posts on Pinterest for hasselback potatoes. I know I have, hence this post. Fancy things aren't they? They're like roasted potatoes, but fancy with it's scalloped look. Like every other potato, yam or sweet potato, it's a blank canvas and you can add any topping and seasonings to your hearts content. I had mine plain. Butter is a
must
. No substituting.
Simple Hasselback Potatoes
recipe adapted from recipes in need
2 small golden potatoes (it's what I had on hand, but use whatever potatoes you want)
2 TBsp butter
sprinkle of garlic powder
season with salt and pepper
Preheat oven to 400F.
Wash and scrub potatoes.
Gently slice the potatoes into thin slices, but make sure not to cut all the way through.
Bake potatoes on a foil lined baking sheet for 60-70 minutes or until potatoes are done.
For more hasselback potatoes recipes, check these out:
3 cheese hasselback potatoes
Hasselback Potatoes with Beetroot and Pepperberry Salt
Lazy Sunday hasselback potatoes