I saw this tag on Youtube awhile back and thought it'd be fun to add this on the blog. It gives you a small peek of the hubby and I and our life as a military family. I rarely talk about being a military spouse... plus there's already a gazillion and one blogs out there and my story is no different or more exciting.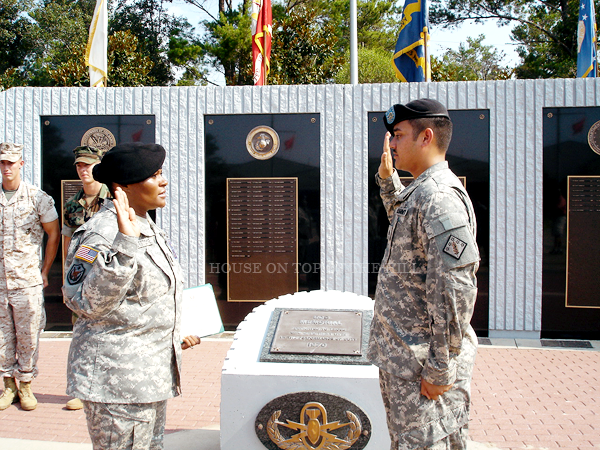 1) How did you and your spouse meet?
We met online. Now, back in the day... there were no online dating sites. If there was it was few and far in between. Meeting people online was a huge "omfg you're crazy". I got that a lot.
2) How old were you when you two met?
I think we were 18 or 19. We're only a couple months apart.
3) How long have you been together?
Together together? I think it's been 11-12 years. We've been married 9 years and almost 2 months.
4) Where are you and your spouse originally from?
We're both from Orange County, California. About 15-20 minute drive from each other.
5) How did you feel about him joining the military?
I think it's the best choice he's ever made (other than marrying me). When he came back from basic/ait, he was a completely different person and it has changed his life for the better.
6) Where did your spouse go to Basic Training?
Ft Leonard, Missouri
7) Has your spouse ever been deployed?
Deployed in a war zone? Once. Deployed to another country? Twice.
8) Ever been to his promotion ceremony?
Surprisingly no. Hopefully I'll get to go this one. He recently made it on to the SFC (E7) list *WOOT* Not sure if he'll get it where he's at or get it when he's home later this year.
9) How long have you been a military wife?
9 years.
10) Did you marry him before or after he joined?
After he joined.
11) How did your husband propose?
Techinically, this is his second time proposing, but I won't get into that story. I remember he was in LA for MEPS leaving for Basic... me and his friend drove up to see him and hang out for a bit. We were sitting in my car in front of the hotel and there were lights stringed on the trees. I already knew he was going to ask cos he kept saying that he had something important to ask me. First off, I wanted to him to do it in front of everyone at the hotel lobby, but he got too shy, so he just asked me in the car. On top of that, I have never seen a man cry and he broke down and cried when he asked me. Which of course made me cry even more.
12) Where did you get married?
At a courthouse in Santa Ana, CA. He was stationed in Korea at the time and flew home to get married to me.
13) How old were you two when you got married?
We were both 20.
14) Did he wear his uniform on his wedding day?
No. My husband refuses to wear his Class A's and even now when I asked him if he'd wear his dress blue's when we renew our vows, nope. But he did agree to taking photos with it.
15) Where are you and your spouse currently stationed?
We are currently stationed at JBLM, WA. This is actually our second time here.
16) Do you live on base?
Nope and we never have and probably never will.
17) How long were you married when you had to go through your first separation?
We were married for about 2 weeks and he left to go back to Korea for about 6 months.
18) What is your favorite base so far?
This is a tough one... we've been to quite a bit over the years and each has a special memory. I really liked Eglin AFB. Probably because we were there for the schoolhouse and not actually stationed there. As for Army post... I would say either JBLM (since we did choose to come back here) or Fort Drum (I loved our unit and the people I met).
19) Do you think your spouse looks good in his uniform?
HELL YAHZ.
20) Do you think military life is more advanced than civilian life?
Advanced? I'm not sure about that.
21) Do you like the benefits you receive as a military dependent?
Sure. I mean, I get good health care and things. Plus there's so many great resources for spouses out there!
22) Do you have a lot of military wife friends?
I have a lot of military wife acquaintances. I only have a small handful of close military wife friends.
23) What is the hardest part of the military life?
Having your spouse leave all the time. I think it's different from job to job, but as an EOD tech, mine was gone
a lot
and there would be random VIPS too.
24) Do you own military wife stuff?
Just an Army Wife t-shirt. I never wear it out in public though. I don't own anything else. I do live in my wounded EOD warrior foundation hoodie though.
25) Do you support your spouse as a member of the military?
YES! We've gone through everything from the start and I am extremely proud of everything he's accomplished.
IF YOU'RE A MILITARY SPOUSE, TAG YOU'RE IT.
I was browsing through old photos when I came across photos of Frankie when he was itty bitty. *cries* Can't believe this little guy is 4 now and stubborn at times. He whines and cries when you don't make enough space on the bed, he farts up a storm, but he's the best snuggler.