It doesn't get dark til 8pm here and dinner has gone from 6pm to now past 8! I've been craving for Japchae for awhile now and the Korean market is a good 20+ minute drive away so instead, I used whatever ingredients I had on hand. Japchae means a mixture of vegetables and traditionally you use sweet potato noodles (dangmyeon), but I used Vermicelli (bean threads) instead. The flavor of the sauce is the right balance of saltiness and sweetness.
So, I started to follow
this recipe
, but I messed up and ended up kind stir-frying everything together and tossing in the sauce. It's almost like Japchae, but not? I recommend rinsing the vermecelli after you drain so keep from sticking. It was a huge mess. Overall, it was delicious and I wish I made more!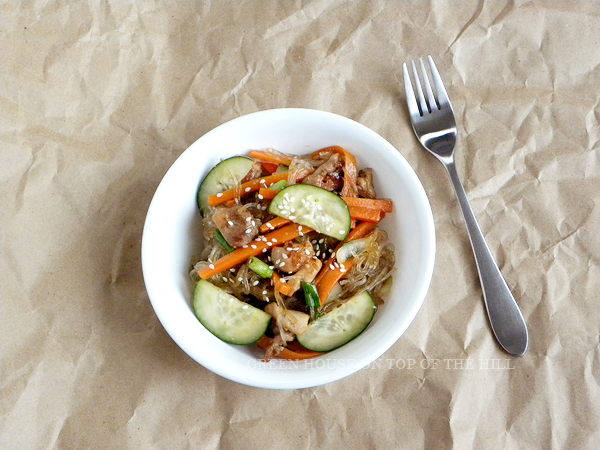 Chicken Stir-Fry with Japchae Sauce
Recipe adapted from
Korean Bapsang
3 bundles of vermecelli
1 small carrot, cut into matchsticks
1/2 sweet onion, diced
1 scallion, diced
1/4 cucumber, sliced
1 chicken thigh, cut in bite-size chunks
vegetable oil for stir frying
salt and pepper
Sauce:
3 tablespoons soy sauce
2 1/2 tablespoons sugar
2 tablespoons sesame oil
2 teaspoons minced garlic
2 teaspoons sesame seeds
Combine all sauce ingredients in a small bowl and mix well until the sugar is dissolved.
Soak vermecelli noodles for 15 minutes in hot water. Drain and rinse with cold water. Cut the noodles with kitchen shears and set aside.
Cook the chicken thigh with 1 TBsp of the sauce and 1 TBsp oil til fully cooked. Set aside.
Stir-fry the vegetables with 2 TBsp of the sauce.
Mix in your noodles, chicken and the rest of the sauce. Cook til heated through.