I have been slacking a lot in cleaning, cooking, baking, doing dishes. Then I saw
Jessica post her chicken bow tie alfredo
on Instagram and I wanted to teleport to Hawaii and have a plate myself.
I already had the ingredients on hand which made things easier. Simple and quick recipes are my favorite and this was no exception! One pot used and I only had to mince some garlic. You can use whatever pasta you want, add in chicken if you want and I always love me some broccoli, which you can omit or add in spinach instead.
I actually texted my husband and told him I went to Olive Garden. I asked him, doesn't it look so good? Of course he said yes. Then I told him it actually came from our kitchen... I made this! Not someone else. He got a little mad that I tricked him. I can't wait til he comes home to make this for him. So much better and healthier than Olive Garden's version.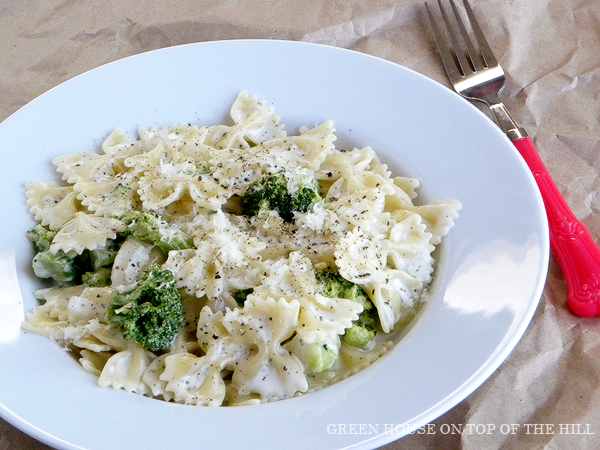 Bow Tie Alfredo with Broccoli
1/4 cup Unsalted butter
1/2 cup Onion, diced
1 TBsp Garlic, minced
1 cup Heavy cream
1 cup Parmesan cheese,fresh grated
Bow Tie Pasta, cooked according to package
1 Steam Fresh Broccoli Florets
Cook pasta according to package instructions. Drain, set aside.
In the same pot over medium heat, sauté onion in butter until soft, 3 to 4 minutes. Salt and pepper to taste. Add garlic cook until fragrant, 1 to 2 minutes more.
Microwave broccoli florets according to package instructions.
Add cream and heat until it simmers slightly. Stir in 1 tablespoon of Parmesan, let melt completely then repeat until cheese is gone.
Toss pasta, broccoli and sauce together.