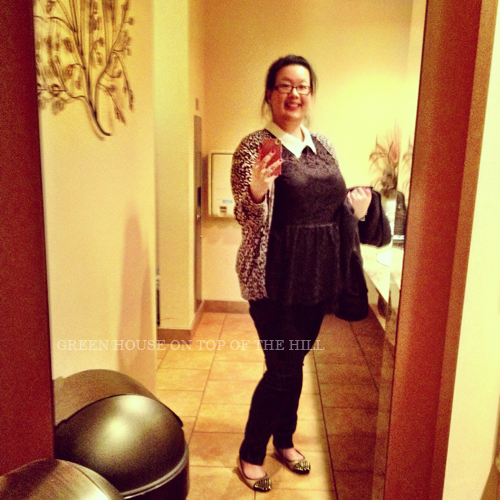 Excuse my goofy looking face... I
never
take pictures in the bathroom, but I really wanted to snap a picture of my outfit before someone walked in. If you follow me on IG, you know I posted the top which I found at F21 and I fell in love with it instantly. It's a peplum lacey top with a white collar. Originally I was going to wear it with a blazer, but I found I looked like I was going to a business meeting more than a fancy dinner. So I quickly put on my leopard print cardigan and called it a night. Oh man... let me tell you... there was a lot of huffin' and puffin' and screaming while I was trying to put falsies on. I had a full blown tantrum and didn't even bother to do my hair because I was pissed off at my
eyes
for not cooperating. I think I have issues.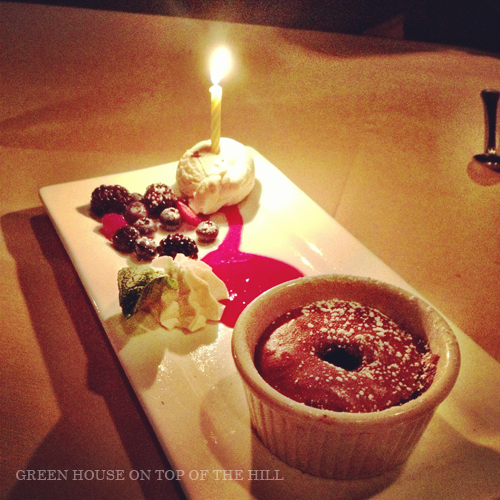 We arrived to dinner a little early and had trouble figuring out where the heck the restaurant was and where to park. Thank you to the nice people of Bellevue for pointing us into the right direction :) The one thing hubby requested to eat when he got home was steak, so I made a reservation at
Daniel's Broiler
and you guys, it was
FANCY SMANCY
. I felt completely out of place and the area they put us in was really quiet and romantic and we even had a view of the city. It was truthfully just beautiful and I had the best date ever, BUT the whole time I just wanted to laugh really loud. Dinner was delicious! We started off with lobster bisque and grilled bacon wrapped Alaskan weathervane scallops with sambuca butter sauce. Those scallops were like butttter. Hubby had some kind of steak with the works while I went with their prime rib. In the end they even surprised us with a free anniversary dessert which were incredibly nice of them. ♥
After dinner, I dragged hubby back to Whole Foods
again
(it's FAR from where we live and it's up the street from the restaurant) and I just walked around aimlessly picking up a couple things here and there. Again, never go to Whole Foods without a set list!