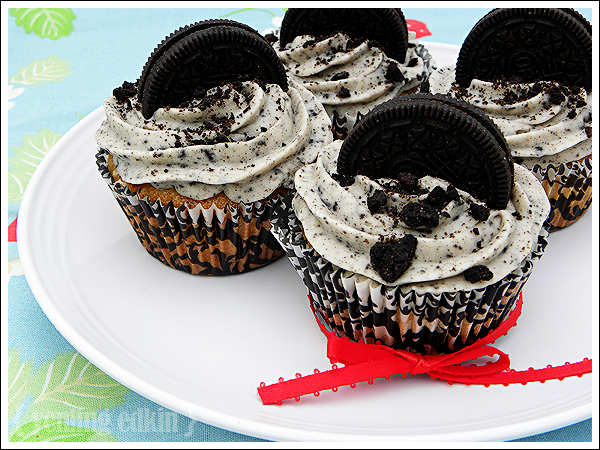 Since I deleted my old blog where this recipe was posted at, I thought I would add it here. I posted about
oreo cupcakes awhile back
, but these are made using homemade batter instead of cake mix. The original recipe is from
Annie's Eats
and the only thing i changed was by adding oreo crumbs to the frosting.
I mean, everyone loves Oreos right? This cupcake is oreo half (cream side) on the bottom, oreo chunks in the batter, oreo crumbs in the frosting and sprinkled on top and lastly, an Oreo half to top it all off. Can we say Oreo Coma?! On the plus side, this cupcake is not painstakingly sweet like I initially thought it would be. These will make your life complete.
Oreo Cupcakes
Original recipe from Annie's Eats
For the cupcakes:
24 Oreo halves, with cream filling attached
2 1/4 cups all-purpose flour
1 tsp. baking powder
1/2 tsp. salt
8 TBsp unsalted butter, at room temperature
1 2/3 cup sugar
3 large egg whites, at room temperature
2 tsp. vanilla bean paste
1 cup milk
20 Oreo cookies, broken into quarters
For the frosting:
8 oz. cream cheese, at room temperature
6 tbsp. unsalted butter, at room temperature
1 tbsp. vanilla bean paste
3 cups confectioners' sugar
2-3 tbsp. heavy cream
1/2 cup Oreo crumbs (optional)
For garnish:
Oreo cookie crumbs
24 Oreo cookie halves
Directions:
Preheat the oven to 350˚ F. Line two cupcake pans with paper liners. Place an Oreo halve in the bottom of each liner, cream side up. In a medium bowl, combine the flour, baking powder and salt; stir together with a fork to blend and set aside. In the bowl of an electric mixer, combine the butter and sugar and beat together on medium-high speed until light and fluffy, about 2 minutes. Blend in the egg whites one at a time, beating well after each addition. Blend in the vanilla extract. With the mixer on low speed, beat in half of the dry ingredients just until incorporated. Add the milk and beat just until combined, then mix in the remaining dry ingredients. Gently fold in the chopped Oreos until evenly incorporated.
Evenly divide the batter between the prepared cupcake liners. Bake for 18-20 minutes, until a toothpick inserted in the center comes out clean. Transfer to a wire rack to cool completely.
To make the frosting, combine the cream cheese and butter in the bowl of an electric mixer and beat on medium-high speed until smooth, about 1 minute. Blend in the vanilla extract. Beat in the confectioners' sugar until incorporated and smooth, 1-2 minutes. Add the heavy cream to the bowl and beat on medium-low speed just until incorporated, then increase the speed to medium-high and whip for 4 minutes until light and fluffy, scraping down the sides of the bowl as needed. Mix in oreo crumbs.
Frost the cooled cupcakes as desired. Sprinkle with Oreo crumbs and garnish with Oreo halves.