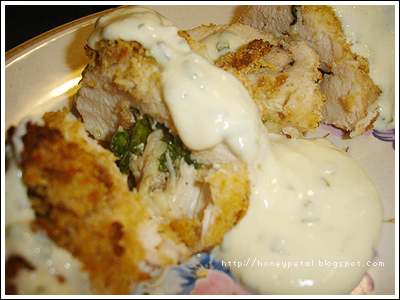 The thing with me, is that i like to try new recipes (we barely have repeats) and i like to test the waters of certain recipes. I think this one let me step out of my comfort zone a bit. I mean, sure we love chicken and how can you go wrong with something breaded? The sauce was properly what threw me off a bit. I enjoy yogurt in smoothies and fruit parfaits, but I don't think i've ever had it as a condiment for savory dishes. The chicken itself was delicious and moist and next time i will add more basil. The sauce was refreshing with a bit of the yogurt tang you expect and the mild spiciness of the mustard. Overall I think i would put this on our "make again" list.
Chicken Roulades with Mustard Sauce
Recipe from The Williams-Sonoma Cookbook
The essential recipe collection for today's home cook
1/2 C. plus 1/3 C. low-fat plain yogurt
1 TBsp plus 1 tsp Dijon Mustard
2 tsp chopped fresh chives
2 TBsp unsalted butter, melted
2 TBbsp chopped fresh basil
4 skinless, boneless chicken breat halves, about 6 oz each, pounded to 3/8 (1 cm) thickness
Salt & freshly ground pepper
1 C. fine fresh bread crumbs (
i used the store bought kind
)
1/2 C. grated Parmesan
To make the sauce, stir together the 1/2 cup yogurt, 1 TBsp mustard and the chives in a small bowl. Let the sauce stand at room temperature to lose its chill while the chicken breats bake.
Preheat the oven to 400F. Light brush a baking sheet (
i just lined mine with aluminium foil and sprayed cooking spray
) with some of the melted butter.
Sprinkle 1 1/2 tsp of the basil in the center of 1 chicken breast and season with salt and pepper. Fold in the short ends of the breast about 1/2 inch. Starting at a long side, roll up the breats, enclosing the basil. Repeat with the remaining breasts.
In a shallow bowl, stir together the 1/3 cup yogurt and remaining 1 tsp mustard. In a shallow dish, stir together the bread crumbs and cheese. Roll each chicken breast in the yogurt mixture and then coast the the crumb mixture. Place on the prepared baking sheet and drizzle with the remaining melted butter. Bake until the coating is golden brown and the chicken shows no sign of pink when cut in the center, about 30 minutes. Serve hot, with a dollop of the sauce on the side.