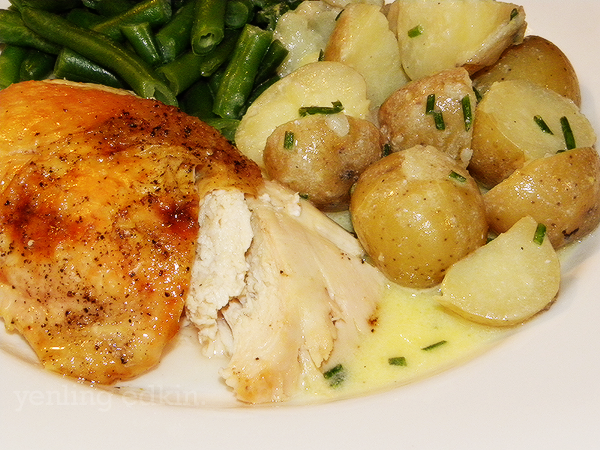 The chicken was seasoned with salt and pepper than rubbed down with softened butter mixed with thyme and garlic paste. I stuffed the cavity with half a onion, lemon slices, thyme and 2 garlic cloves.
The potatoes in Creme Fraiche Chive sauce was
so good
!! I misread the recipe and added a whole container of creme fraiche instead of 1/4 cup. Overall, still delicious and it went fabulously with the chicken.
Creme Fraiche Chive Sauce
Original recipe from Mycookinghut
1 lb. petite idaho potatoes
1 cup crème fraîche
1/2 fresh lemon juice
1/4 tsp finely grated lemon zest
2 tbsp olive oil
2 tbsp minced chives
salt & pepper to taste
Method:
1. Put the potatoes in a large saucepan, add cold water to cover by about an inch. Bring to a boil, lower the heat, and simmer gently until potatoes are tender, anywhere from 10 to 20 minutes depending on their size (test doneness with a fork).
2. When the potatoes are done, drain all the water and let them sit in the pot for five minutes to steam and dry.
3. Whisk together the crème fraîche, lemon juice, lemon zest, olive oil and chives in a small bowl until combined. Add salt and pepper to taste.
4. Halve or quarter the potatoes, if large and toss with the crème fraiche mixture.