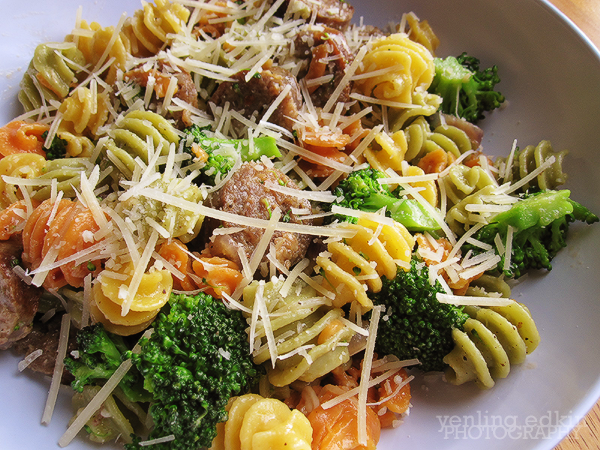 Just posting old recipes from my old blogspot which I plan to delete once everything is transferred over! Definitely expect loads of recipe posts coming soon!
Broccoli and Sausage Pasta
Original recipe from Good Life Eats
2 cups broccoli florets, cooked till tender crisp
3 links mild italian sausage
1 red onion, sliced thinly
2 cloves garlic, minced
1/3 cup dry white wine
1/2 teaspoon of crushed red pepper, more if you like
salt and pepper to taste
12 ounces Ronzoni garden delight radiatore pasta, cooked according to package instructions
In a large saute pan, drizzle a couple teaspoons of olive oil. Add the sausage, cooking until browned on all sides. Remove sausage and slice into rounds. Return to pan. Add onion to the sausage and saute until the onion is tender, about 3-4 minutes. Add garlic and saute 1 minute more.
Deglaze the pan with the white wine, making sure to scrape up all the browned bits. pasta, and broccoli. Season to taste with salt and pepper and sprinkle with crushed red pepper. Serve topped with grated Parmesan cheese.