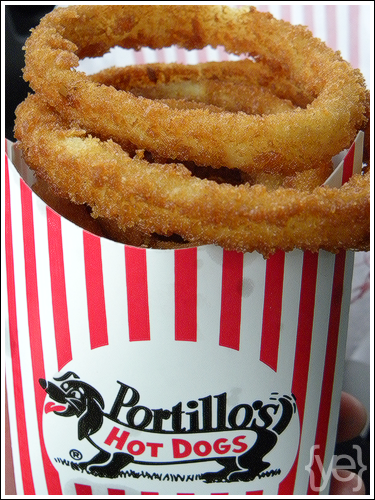 I was surfing the internet one day and came across a site listing "OC's 10 best restaurants".
Portillos
was one of them and i was instantly hooked by all the reviews on
Yelp
! Originally, i was suppose to go with my friend to Portillo's for dinner, but he forgot he was suppose to attend a friend's BBQ. I've been looking forward to eating there the last few days and decided that i might as well go by myself. After all, its raining and they have a drive-thru :) There was this poor guy standing in the rain taking orders and he was very helpful in letting me know whats good, whats not and what is his personal favorites. After taking up a lot of his time (thank god there was no one behind me!), I've decided to order onion rings, italian beef sandwich with mozzarella and sweet peppers- extra gravy, a Chicago dog and a
Chocolate Cake Shake
. Pulled up to pay and again, there was this poor girl standing there collecting my money, in the rain! Pulled up to the next window, collected my food and found a spot in their parking lot to take pictures and grub.
The
Onion Rings
was like no other onion rings i've ever personally had. They were so freakin' good! Oh dear. It had this amazing crunch to it when i bit it and you know how usually when you bite into an onion ring and the breading falls off and you're left with onion. Worse, still raw-like onion on the inside? Oh, no. Portillo's onion rings were cooked to perfection!! Best of all, they taste good after a hour!! Still has the crunch.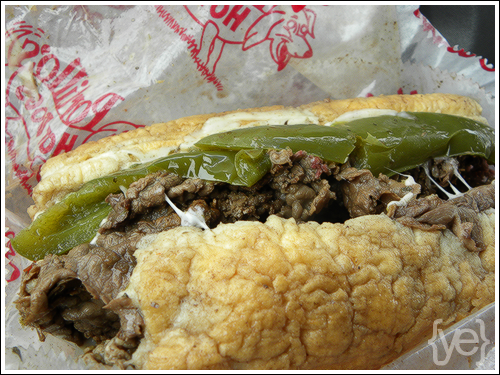 Moving on,
Italian beef sandwich with mozzarella and sweet peppers- extra gravy
. Yelp reviewers raved about their Italian sandwich, but my first 5 bites, I was slightly disappointed. I was expecting my eyes to bulge out and say "omg wow that is so freakin' good" and fireworks should be shooting out all around me. I got nothing. As I started to make my way through the halfway mark, it started to get better and in the end it was actually pretty good. Next time I would order more sweet peppers though.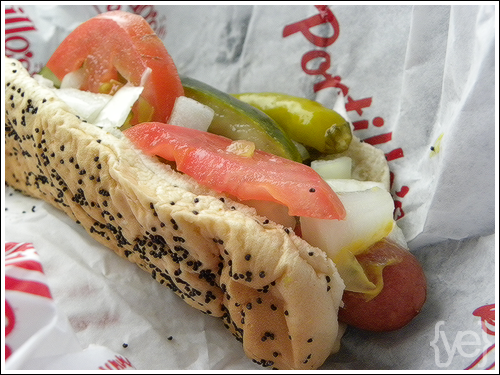 Next up, their
Chicago Dog
. When we were driving from New York to California, i really wanted to stop in Chicago to get a Chicago Dog, but it was sooooo out of our way and the weather was
freezing
, that i never did get my Chicago dog. I suppose Portillo's is the next best thing. I did read a review from a girl whose born and raised in Chicago and she went to Portillo's and exclaimed that it tasted just as amazing as a real Chicago dog. So, of course i had to try it and it was not that bad. I do love love love the poppyseed bun and the giant slice of pickle, but I also did only take 1 bite so far (the half eaten Italian sandwich really filled me up).
And of course, I saved the best for last, their
CHOCOLATE CAKE SHAKE
. Yes, i needed to type it all out in capital letters. Again, this shake had so many positive reviews and the guy who took my order swore its like the best thing in the world! And it is! I guess most people who eat a slice of chocolate cake, would most likely drink a glass of milk with it right? Its just the right thing to do. Well, Portillo's went a step further and just threw it all together in a blender and serves it to customers. My first sip, I got a small chunk of cake. Weird. After awhile, i can taste the frosting on the cake and everything. Still kinda weird to me. One of the best things about the shake is that its not so sweet where you feel like you just might keel over, but sweet enough to satisfy that sweet tooth.
Portillo's Hot Dogs
8390 La Palma Ave.
Buena Park CA 90620
714-220-6400
http://www.portillos.com/portillos/