Sorry for my lack of posts! I do have about 10+ scheduled posts... all recipes which I'm trying to transfer over from my old blog. The weather here is back to being gloomy and rainy and I've been feeling pretty under the weather myself. My friend
Jenny
came up to visit Columbus Day weekend and it was the exact girl weekend I needed!
Anyways, excited it's time for MM&I link up party hosted by
Breanna
!

image via languageandgrammar
What is your favorite season? Explain.
I don't exactly have a favorite season anymore, but Summer is my
least
favorite that's for sure! I like
Autumn
for it's cool air, tree foilage, start of pumpkin everything and anything, Thanksgiving, apple cider, apple picking.
Winter
for snow! I absolutely lovelovelove snow even after going through one winter stationed at Drum. Christmas is my all time favorite holiday and I love putting up my tree the day after Thanksgiving.
Talk about a moment that changed your life?
It's personal (plus I don't know whose reading this), but I feel like that moment in my life has shaped me to be who I am today. I don't know if it changed me for the good or for the bad. It definitely has made me more cautious, less trustworthy and overall, living too safe. Of course, how can I forget marrying my husband was one of the biggest life changing moment. Can you believe in February will be our big 9?! Also, finding out earlier this year I have Diabetes has changed my life for the good.
If you could be any Crayola crayon color, what would you be & why?
I agree with
Melissa
here. I wouldn't personally want to be a crayon either, but there's a gazillion colors and I honestly cannot choose just one! But if I
had
too, it has be from the pink and/or teal, blue/green family.
Describe yourself as a superhero: Superpower? Name? Sidekick?
I'm the worst when it comes to coming up with superhero names. My superpower would be... Wait, can I just omit this question all together?
If you had all the money in the world and could only shop at 3 stores, where would you shop?
Target. Definitely Target since you can buy just about everything there! Torrid and Nordstrom.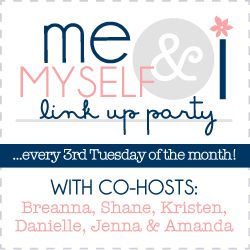 Come join in at
My Beautiful Crazy Life