I made this cake for my brother's 25th birthday and he asked for a vanilla cake which at first, i thought was so plain and so boring! Then i realized that since my mom doesn't eat chocolate, vanilla was safest, plus vanilla cake is like a blank canvas. I remember seeing
TPW
post about a cake with strawberries and for the life of me, i could not find it, so i had to improvise. For the cake itself, I made Martha Stewart's
Versatile Vanilla Cake
filled with fresh strawberries and frosted with Creme Fraiche frosting. I also used Duff's Edible Tattoo art which i found at Michael's. The cake itself was
delicious
!! The frosting was very light which i loooved. I think this will be the cake I'm going to start making for birthdays. It was simple and if you can't find creme fraiche, i'll probably use buttercream.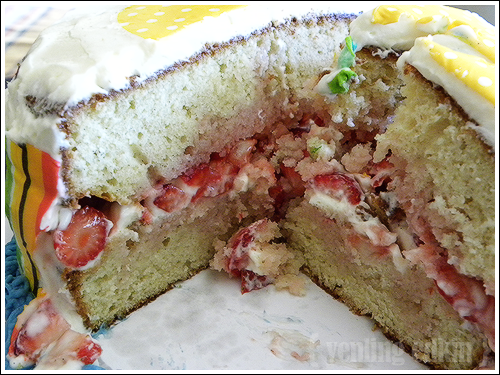 Martha's Vanilla
Original recipe from Martha Stewart
1 cup (2 sticks) unsalted butter, room temperature, plus more for pans
2 1/2 cups all-purpose flour, plus more for pans
1/2 teaspoon baking powder
1/2 teaspoon baking soda
1 teaspoon salt
1 1/2 cups sugar
2 large eggs plus 3 large egg yolks
2 teaspoons pure vanilla extract
(I used Vanilla Bean Paste)
1 cup low-fat buttermilk
1. Preheat oven to 350 degrees. Butter and flour two 8-by-2-inch cake pans, tapping out excess flour. In a medium bowl, sift flour, baking powder, baking soda, and salt.
2. In a large bowl, using an electric mixer, beat butter and sugar until light and fluffy. With mixer on low, beat in eggs and yolks, one at a time. Beat in vanilla. Alternately beat in flour mixture and buttermilk, beginning and ending with flour mixture; mix just until combined.
3. Divide batter between pans; smooth tops. Bake until cakes pull away from sides of pans, 32 to 35 minutes. Let cool in pans 10 minutes. Run a knife around edges of pans and invert cakes onto a wire rack. Let cool completely.
Fresh Strawberry Filling & Creme Fraiche Frosting
Strawberries:
1 1/2-2 lbs fresh strawberries
1 cup sugar
Dice up strawberries. Pour sugar over, coating the strawberries evenly. Let it sit for about 20-30 minutes.
Frosting:
3 containers of creme fraiche
1-2 cups powdered sugar
1 tsp vanilla bean paste
I just whipped everything together. You don't have to use up to 2 cups of powdered sugar, just til its sweet enough for your own tastebuds. After the cakes are cooled, i leveled out the top and poured the strawberry syrup on each half because I was afraid the cake might be dry. Topped the bottom half with some creme fraiche forsting then topped with the strawberries. Add top layer of cake. Frost all over.
This cake tastes better after a day or two.