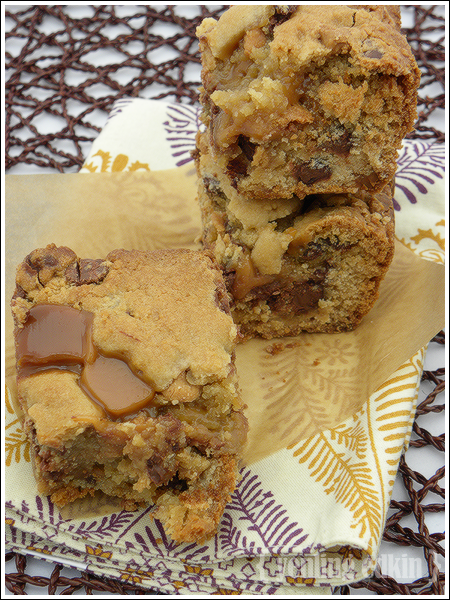 I'm sure most of you have seen the delicious
"Brookies"
Bakerella
posted on her blog. When i first reviewed the ingredients, I was shocked that it called for
1 POUND OF BROWN SUGAR
! I mean, holymoly. The recipe she posted had 2 ways of making it. By mixer or by hand. I did it by hand and it was a bit tiring, but completely worth it. I mixed in chocolate chips, Reese's peanut butter chips and topped it off with caramel chews. Lets back up a minute there... I had the hardest time finding caramel chews at my local Vons. Whats up with that?! I was really glad i had some forgotten caramel chews i bought during the holiday season because the caramel is what makes it extra special. Also, I didn't have a 13x9 pan, so mine turned out bigger and thicker then hers, but its okay. This is one of those must try recipes! Play around with the mix-ins and have fun!!
Gooey Caramel Bars
Recipe from Bakerella
2 3/4 cup all purpose flour
2 1/2 teaspoons baking powder
1/2 teaspoon salt
2/3 cup butter, softened
1 lb. light brown sugar
3 eggs
1 teaspoon vanilla
1 1/2 cups Chocolate Chips
1/2 cup Peanut Butter Chips
10 individual wrap Caramel Chews, chopped
By Hand:
Sift flour, baking powder and salt into a large bowl. Set aside.
Stir brown sugar into softened (not melted) butter in another large bowl until butter disappears. You can use the back of your spoon to help incorporate the two together.
Add eggs one at a time to butter mixture and stir well after each egg.
Add vanilla, chocolate chips and peanut butter chips. Mix well.
Add dry flour mixture and stir until well combined.
Coat a 13 X 9 pan with non-stick spray and spread batter evenly into dish. Top with Caramel chews, pushing it into the batter a bit.
Bake at 350 degrees for 30 minutes or until top is golden brown. Make sure you don't over bake.
Note: I did not have a 13x9 pan. Actually i'm not sure how big my pan was, but i had to bake it for about 50 minutes. The top started to get a bit brown around 30 minutes, so i slightly covered it with foil to prevent it from burning. If you do use a 13x9 pan and notice its not fully done around 30mins, leave it in a little longer but do keep an eye on it!!