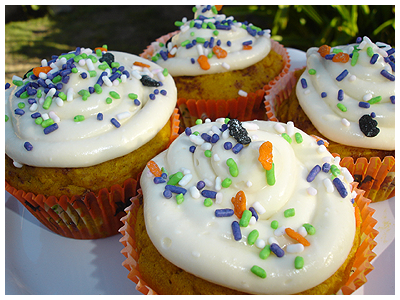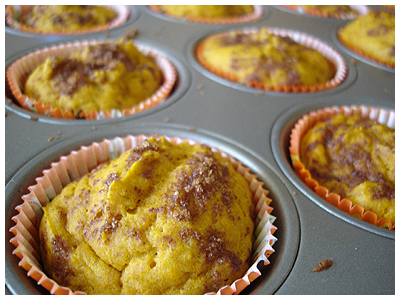 Pumpkin Bread
Original recipe from Peabody
2 cups all-purpose flour
1 tsp baking soda
½ tsp salt
½ tsp ground cinnamon
¼ tsp ground ginger
¼ tsp fresh ground nutmeg
1 cup plain pumpkin puree
½ cup canola oil
2 large eggs
1 ½ cups granulated sugar
Preheat oven to 325F.
Line muffin pan with cupcake liners.
In a bowl, sift together flour, baking soda, salt, and spices; set aside.
In another bowl, mix pumpkin puree, vegetable oil, eggs and sugar for about 1 minute.
Add flour mixture into the pumpkin mixture and mix just until combined.
Pour batter into each cup.
Bake for 22-25 minutes or until the middle is done.
Cool completely before frosting- optional of course :)
Cream Cheese Frosting
1/2 cup Butter (1 stick), room temperature
8oz. Cream Cheese, room temperature
1 tsp Vanilla extract
2-3 cups Powdered Sugar
Cream butter and cream cheese til creamy. Mix in the vanilla. Add 1 cup of sugar (i used 2 1/2) at a time to desired sweetness.