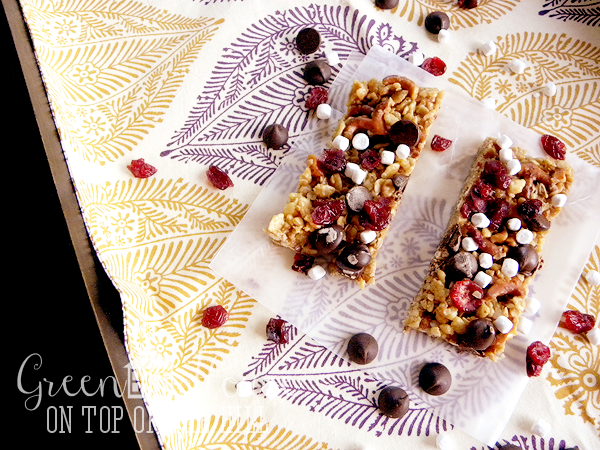 I don't buy or eat granola bars often, but these were pretty much calling my name after I saw it on
Foodgawker
and majority of the ingredients should already be in your pantry. Plain granola bars are pretty much a blank canvas and you can add whatever your little heart desires. The original recipe just used mini chocolate chips, pretzels and peanut butter.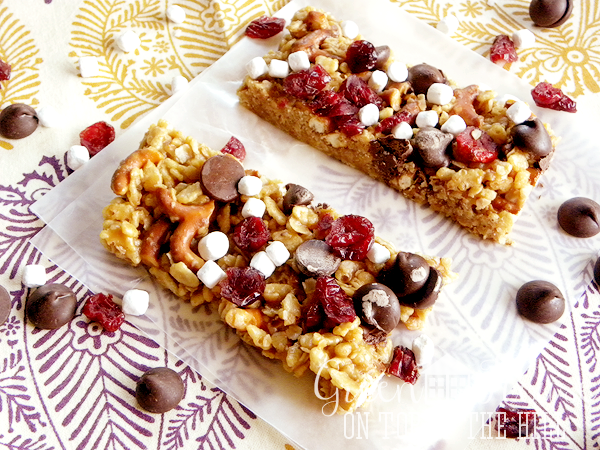 Dark chocolate chips, pretzels, peanut butter, dried cherries and marshmallow bits. So good! Who knew homemade granola bars were
this
easy?! Next time I'm going to omit the peanut butter or put less than what the recipe calls for.
Dark Chocolate with Dried Cherries and Marshmallow Bits Granola Bar
Original recipe from
My Gathering Table
1/4 cup butter
1/4 cup brown sugar
1/4 cup honey
1/4 cup creamy peanut butter
1 teaspoon vanilla extract
1 cup quick oats
1 1/2 cup crispy rice cereal
3/4 cup chopped pretzels
1/4 cup dark chocolate chips
Dried cherries (optional)
Marshmallow bits (optional)
Line an 8 x 8 inch square pan with wax paper.
In a medium saucepan add butter, brown sugar, honey and peanut butter. Heat over medium-low heat, stirring occasionally until the mixture starts to bubble. Once bubbling cook for 2 minutes while stirring. Remove from heat and add the vanilla.
Stir in the oats, crispy cereal and pretzels. Stir until well coated. Pour into the prepared pan. Press the mixture evenly into the pan. Sprinkle the chocolate chips, dried cherries and marshmallow bits.
Let the it cool. Cut into bars and serve.