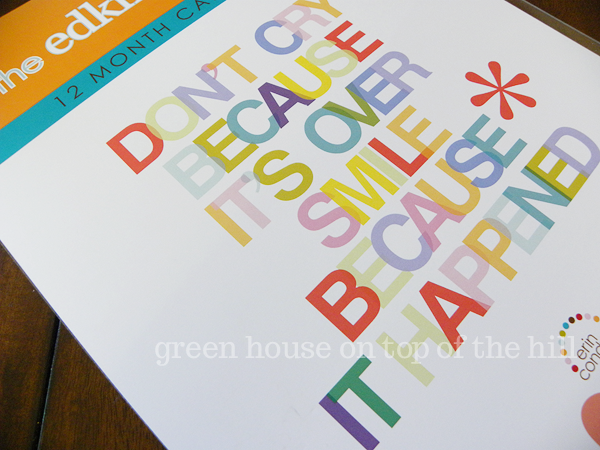 Who here doesn't know who
Erin Condren
is? It's okay if you don't. No shame in that, but this amazing woman has been sweeping the nation with her famous
life planners
which everyone and their grandma's now own or in the process of owning one.
I, am one of the few who did not order a life planner, but I am a very very proud owner of their
jumbo calendars
which I have been looking for one for a really long time now. About 2 years ago, I purchased this Martha Stewart branded wall calendar which I LOVED to death until I used up the last page. I went back to Target quite a few times and it seems like they stopped carrying it. I've also gone to one of the office supply stores that carry Martha Stewart brands and they also do not carry it. I was so disappointed no one carried and I know I could of just purchased one of the ugly plain ones, but I wanted something colorful and fun.
Awhile back, Danielle of
Framed Frosting
held a 10 day giveaway and I was one of the lucky winners who won the $50 credit to
Erin Condren's store
. I was sad to find out that I wasn't able to use my credit towards a life planner, but I've long gone gotten over that. Even though my order is missing my colorful pens which I've already called them about, I am over the moon in love with my calendar. It sits beautifully in my kitchen and it makes remembering appointments easier and jotting down birthdays or notes quicker since I don't have to search for my little notebook.
I just want to personally thank Danielle of
Framed Frosting
for her amazing giveaway and
Erin Condren
for all her amazing goods!
NOTE: I am in no way affliated, paid or sponsored by Erin Condren. This purchase was made using my own money.