So, my best friend Jeannie turns the big 3-0 today and even though her gift will be arriving late, this is one part of it. She requested some cookies baked by yours truly and I wanted to try something new. Jeannie is actually allergic to milk/dark/semi-sweet chocolate, so I made her cookies without and added milk chocolate chips to the rest of the dough.
White & chocolate chip cookies with marshmallow bits and toffee. Now, say that 5 times fast! Goodness, that title alone is such a mouthful. The recipe calls for 3 cups of flour!! Probably because there's so much add ins, but my dough was slightly crumbly. Jenny from
Picky-Palate
didn't instruct to refrigerate the dough before baking like most cookie recipes do, but I made the dough at about midnight and I don't plan to bake and ship til next week anyways. Today, I decided to bake half a dozen just for myself to test it out and of course taste test to make sure it's good enough for my bestie. I let the dough sit out for a bit and when it came to scoop my dough, it was still pretty hard and very crumbly. I baked it the full 12 minutes like the recipe suggested and even let it sit on the cookie sheet for 5 minutes before putting it on the cooling rack. The cookies barely spread and the middle still had that undercooked doughy texture which I personally don't like. The cookie itself? SUPER SWEET! Oh man. Still a good cookie. Happy Birthday Jeannie!! ♥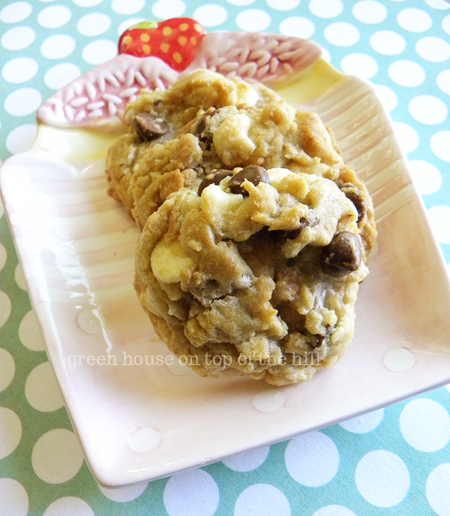 White & chocolate chip cookies with marshmallow bits and toffee
Recipe by Picky-Palate
2 sticks softened unsalted butter
3/4 cup granulated sugar
3/4 cup packed light brown sugar
2 large eggs
1 1/2 teaspoons pure vanilla extract
3 cups all purpose flour
1 teaspoon baking soda
3/4 teaspoon kosher salt
1 cup chocolate chunks
1 1/2 cups white chocolate chips
3/4 cup mini marshmallow bits
1/4 cup toffee chips
1. Preheat oven to 350 degrees F. and line large baking sheet with parchment or silpat liner.
2. In stand mixer, beat butter and sugar for 3-4 minutes, will be light and fluffy. Add eggs and vanilla until well combined. Slowly add flour, chocolate, chips, marshmallow bits and toffee. Mix until just combined.
3. With a medium cookie scoop, scoop dough onto prepared baking sheet, about 1 inch apart. Bake for 10-12 minutes, until baked to your liking. Remove and let cool for 5 minutes on baking sheet before transferring to cooling rack.