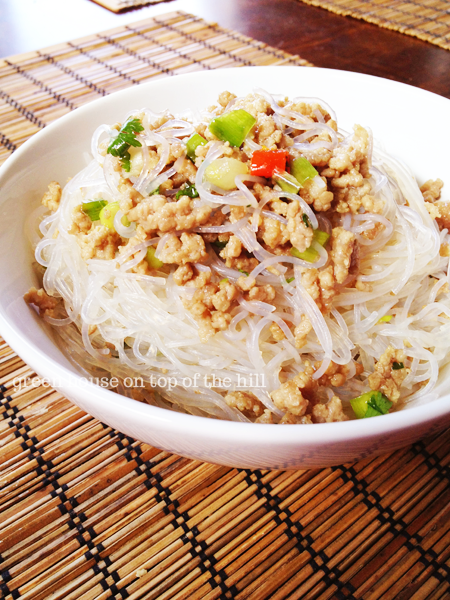 I browse
Foodgawker
every day, at least a couple times a day and I came across
this recipe
and it was calling me to make it. ASAP! I refuse buy meat at my local supermarket since I know I can get it for a lot cheaper at the commissary on post.
Sadly
, it was pay day and that means prices are jacked up a little higher, stock is low and crazy people, so instead I went to the Asian market in Tacoma and was lucky to find ground pork for cheap, giant zucchinis and all the ingredients I need for this recipe.
Now, I'm full Chinese and Asian cooking is just not in my blood. I pretty much can't cook Asian food if my life depended on it, unless it came from the freezer section or I can just heat it up in the microwave. So, I was definitely a little wary when it came to this recipe, especially using fish sauce. I'm just thankful that this dish was not only edible, but
delicious
! The recipe only called for 6oz of the noodles, but I put the 10.5oz package which came with 4 bundles and I used 3 which resulted in A LOT of noodles, so I had to double the sauce. I didn't have peanuts on hand, so I had to omit that, but I'm sure it would of been tasty with it. I also couldn't find bird's eye chili at Safeway AND at the Asian market, so I bought some frozen red chili peppers which wasn't too too spicy, but I also didn't put that much in. If you like spicy, I would recommend adding more.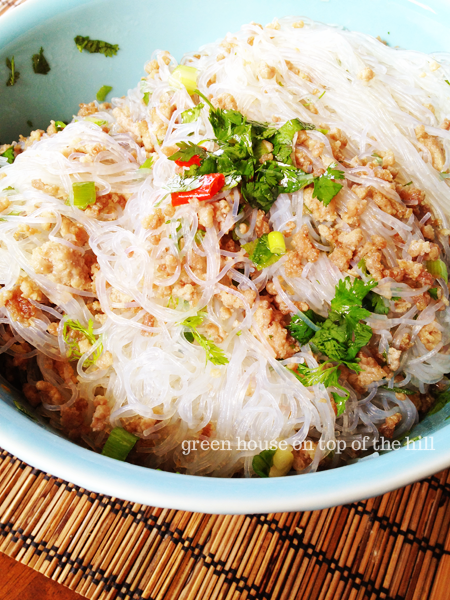 Spicy Thai Noodles with Crispy Pork
Recipe from
The Kitchn
1/2 pound ground pork
1 6-ounce package glass noodles (bean threads/saifun)
3 green onions, sliced into thin rounds
2 tablespoons roughly chopped cilantro
1 bird's eye chili, ribs and seeds removed, minced (substitute 1/4 teaspoon dried chili flakes)
2 tablespoons peanuts, roughly chopped
2 tablespoon soy sauce
2 tablespoons fish sauce
2 tablespoons sugar
2 tablespoons lime juice (from 1 lime)
Extra chopped peanuts for garnishing
Warm a teaspoon of canola oil in a skillet over medium-high heat. Add the pork and cook for 5 minutes, stirring frequently to break the pork into tiny crumbles. Cook for another 3-5 minutes, stirring less frequently, until the pork turns deeply golden and crispy. Set aside.
While the pork is cooking, set the noodles in a bowl and cover them with hot water to soak. Let them sit until softened, about 10 minutes or until the pork has finished cooking.
Bring a pot of water to a boil. Drop in the noodles and cook for 1-2 minutes, until the noodles are stretchy and tender. Drain and rinse under cool water. Use a pair of kitchen shears to cut the mass of noodles 3 or 4 times: this makes the long noodles easier to eat.
Combine the noodles, pork, green onions, cilantro, chili, and peanuts in a large bowl. Whisk together the soy sauce, fish sauce, sugar, and lime juice in a small bowl. Taste and add more of any of the ingredients to suit your tastes, then pour the sauce over the noodles. Use tongs or clean hands to lift the noodles, fold them over, and gradually work the ingredients into the noodles. Let stand at least 15 minutes before serving or refrigerate until serving. Garnish each dish with extra peanuts.