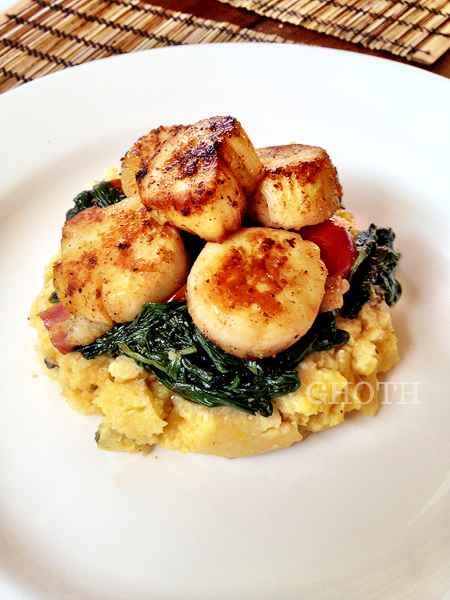 DH is leaving soon and I really need us to eat through the pantry as well as the freezer. I had some frozen scallops which I purchased awhile back from
Trader Joe's
that I really need to use up. Had some leftover spinach, few strips of bacon and everything else I already had on hand in my pantry. I also received a Porcini Polenta from
Wine Forest
a couple months back from my subscription through
Foodzie
. Before this, I have never had polenta before, let alone making it, but I think I did alright for my first time. Standing in the kitchen on a hot day over a hot stove watching polenta is not ideal in any means and by the end of cooking dinner, I was already over it.

Image via Wine Forest
I love scallops and this is only my second time making them at home. I prefer the pan sear in bacon grease over the broiling method. I was worried to overcook them and I definitely had to time these well and watch it like a hawk. I added in some cherry tomatoes for color and extra veggies. Towards the end, I rushed the process when I added the white wine and didn't really let it cook down because I was afraid to overcook the scallops. This was a really great meal and very very filling because of the polenta. Great for date night or a nice romantic meal.
Scallops with Spinach
Recipe from Baked by Rachel adapted from: Mastering the Art of French Cooking by Julia Child
1/2lb sea scallops
3oz baby spinach
1/4 cup cherry tomatoes, cut in half
5 strips center cut bacon
1 garlic clove
1 tbsp butter
1/4 tsp salt
1/4 tsp pepper
1/4C white wine
In a medium skillet over medium heat, cook bacon until nearly done. Drain on paper towels.
Sprinkle scallops with salt and pepper. Carefully add to hot skillet one at a time. Cook in bacon grease until scallops are seared on both sides. If skillet is low on bacon grease, add 1 tbsp butter to pan while cooking scallops. Transfer scallops to a clean plate.
Add minced garlic and spinach to pan. Toss until spinach is wilted. Add in cherry tomatoes. Pour in white wine. Top off with scallops. Toss for several minutes, allowing the flavors to mingle and scallops to cook through.
Arrange spinach and bacon mixture, topped off with scallops.