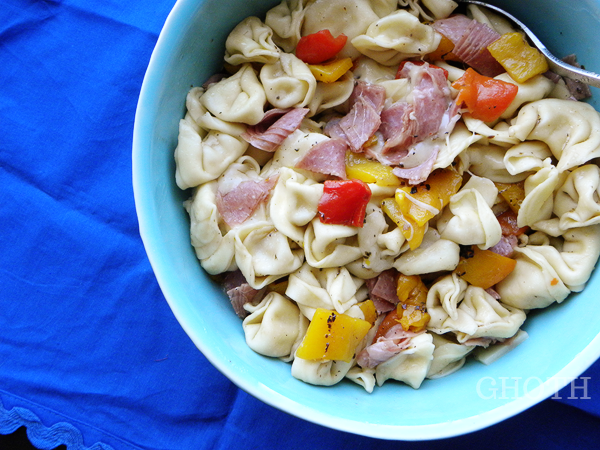 I
never
eat breakfast. Actually, I'm never awake early enough to enjoy breakfast. Sometimes I skip lunch which is a huge nono, I know. I came across this simple tortellini antipasto salad which is really delicious and semi-healthy. The recipe doesn't call for the pasta to be cooled, which I think is a must considering how all my cheese melted and it turned into a bit of a mess. I omitted the artichokes and olives, but I think next time I'm going to add some broccoli or more vegetables. Very simple lunch or dinner.
Simple Tortellini Antipasto Salad
Original recipe from BHG


1 9 ounce package refrigerated cheese tortellini
1/2 cup chopped bottled roasted red sweet peppers
1 ounce Genoa salami, cut into thin strips
1 ounce provolone cheese, cubed
1/4 cup bottled vinaigrette salad dressing
Cook tortellini according to package directions. Drain; place in large bowl. Stir in sweet peppers, salami, and cheese. Add dressing; toss to coat.