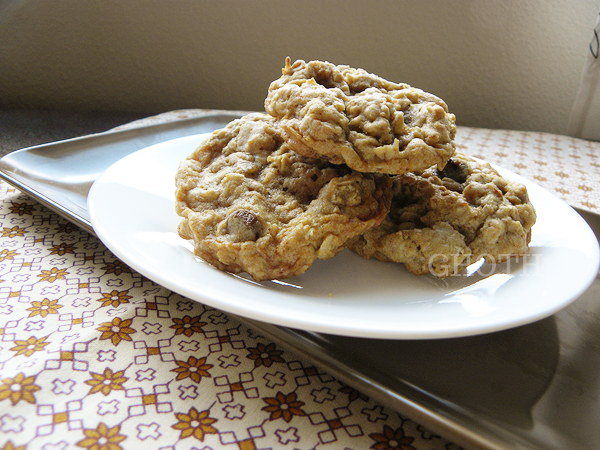 I love baking. Cookies mostly. Baking cookies is not only a rewarding hobby, but it's my stress reliever. I think most people have special memories of baking along side their mother and grandmother and sharing fresh out of the oven cookies with a huge glass of milk. I've never had that moment. I vaguely remember my mom baking, but I do know when we were kids, she use to make carrot cupcakes for our birthdays up til I was about 8 and birthday parties completely vanished out of my life after.
I learned how to really bake and cook watching the Food Network, food blogs and basically learning all on my own from trial and error. Cooking and baking for me didn't really kick in til I was 24 and I'll be 29 in exactly one month!! What can I say, I'm a late bloomer.
Last Friday, we went to
Drive Thru Boba
and we were chatting with the owner Alex and my hubby, bless his heart was raving about the brownies I made and how I make awesome cookies blahblahblah. He somehow talked us, or me, into baking some S'more cookies for Alex. On top of that, I also wanted to try a new cookie recipe and after searching high and low, I went with cowboy cookies from Baked Explorations. I have no clue what it has do with cowboys because after I ate one, I didn't feel like getting on a horse and yelling out Yee-Haw! Though, I wouldn't mind looking at some hot cowboys while I'm eating these cookies. These cookies are really good though! Salty from the pretzel bits and sweet from the chocolate chips. Just now looking over the recipe, I used 2 sticks of butter instead of 1 3/4 sticks. I also did not have any espresso powder, so I used some Vietnamese instant coffee mix which you can't even taste in the cookie, but the batter smelled
amaziiiiiing
!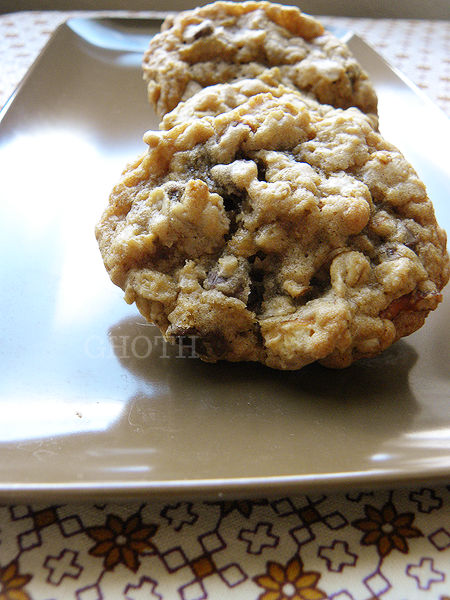 Cowboy Cookies
Original recipe from Baked Explorations by Matt Lewis & Renato Poliafito
1 3/4 cups all-purpose flour
1 tsp baking soda
1 tsp baking powder
1/2 tsp salt
2 cups rolled oats
2 sticks unsalted butter, room temp
3/4 cup granulated sugar
1 cup firmly packed dark brown sugar
1 large egg
1 large egg yolk
1 tsp vanilla extract
1 tsp instant espresso powder
2 cups semisweet chocolate chips
3/4 cup pretzels, broken into tiny pieces
In a medium bowl, whisk together the flour, baking soda, baking powder and salt. Add the oats and set aside.
Cream together butter and sugars until smooth and creamy. Add egg and egg yolk. Scrape down the sides and bottom of the bowl, add the vanilla. Dissolve espresso powder in 1/4 cup hot water and add it to the bowl, mixing until combined.
Add half of the dry ingredients and mix for 15 seconds. Add remaining dry ingredients until incorporated. Scrape down the sides and bottom of bowl. Fold in the chocolate chips and the pretzels.
Cover bowl tightly and refrigerate dough at least 4 hours (I left mine overnight).
Preheat oven to 350F. Line baking sheets with parchment paper.
Bake 11-13 minutes or until the edges are golden brown.