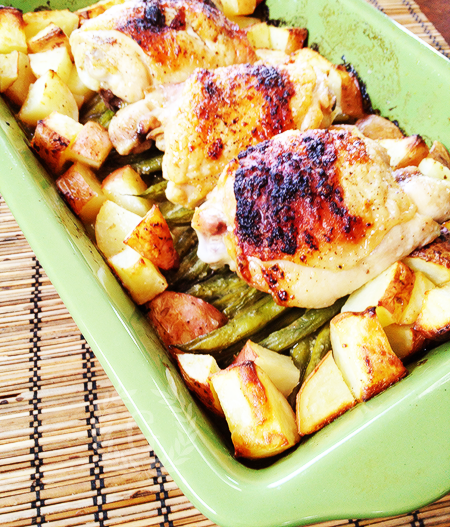 After coming home from leave, we're trying to get our life back into a routine and getting back into cooking. I was definitely spoiled this trip, eating delicious food all day every day. It was nice not having to plan out meals and cooking for awhile.
I came across this roast chicken recipe and best of all, it was simple quick and it was one in one pan! Perfect for a quick weeknight meal or a Sunday meal. I used chicken thighs since they were on sale last week at Safeway. Bone-in and skin will help keep chicken moist, but you can also choose skinless boneless option.
Roast Chicken with Lemon-Garlic Green Beans
Original recipe from Real Simple
6 tablespoons evoo
2 lemons, 1 thinly sliced, 1 juiced
4 cloves garlic, minced
1 teaspoon kosher salt
1/2 teaspoon freshly ground black pepper
3/4 pound trimmed green beans
4 red potatoes, quartered
3 chicken thighs
Preheat oven to 450°F. Coat a large baking dish or cast-iron skillet with 1 tablespoon of the olive oil. Arrange the lemon slices in a single layer in the bottom of the dish or skillet.
In a large bowl, combine the remaining oil, lemon juice, garlic, salt, and pepper; add the green beans and toss to coat. Using a slotted spoon or tongs, remove the green beans and arrange them on top of the lemon slices. Add the potatoes to the same olive-oil mixture and toss to coat. Using a slotted spoon or tongs, arrange the potatoes along the inside edge of the dish or skillet on top of the green beans. Place the chicken in the same bowl with the olive-oil mixture and coat thoroughly. Place the chicken, skin-side up, in the dish or skillet. Pour any of the remaining olive-oil mixture over the chicken.
Roast for 50 minutes. Remove the chicken from the dish or skillet. Place the beans and potatoes back in oven for 10 minutes more or until the potatoes are tender.