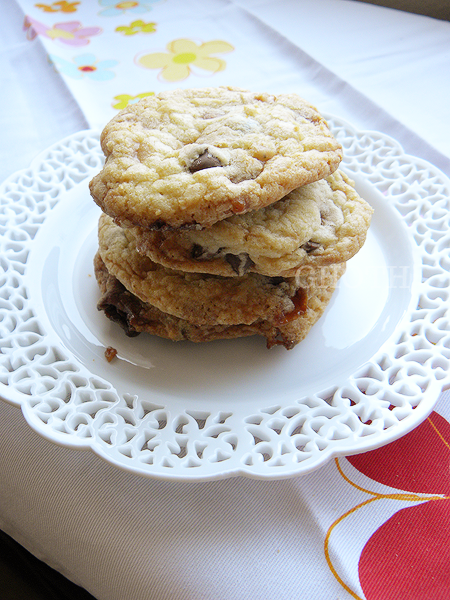 Today is hubby's 29th birthday and the last day or so, I have been baking up a storm. Originally I was only going to bake cupcakes which I did (look out for the post soon), but I want him to bring most of them to work. Except, I only have a dozen of cupcakes to send to his company/team, so an addition of cookies have also been included. This is my
favorite
Toffee Cookie recipe, but since I was really low on toffee chips and was in no mood running to the store at 11pm, I added caramel bits. The cookie is still delicious though. The melted caramel bits add a different texture, but since it melted, it's hardened and there's a chew to it. Not too bad. I probably wouldn't add them because I do love the original toffee recipe. Anyways, give it a go or leave them out.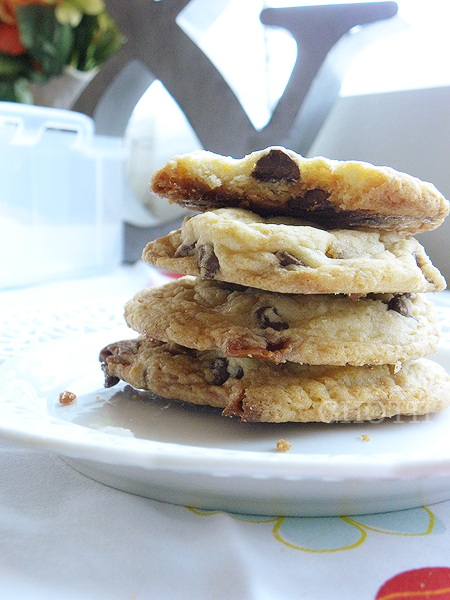 Chocolate Toffee Caramel Cookies
Original recipe from Simply Recipes


2 1/2 cups unbleached all-purpose flour
1 teaspoon salt
1 teaspoon baking soda
1 cup (2 sticks) unsalted sweet butter, room temp
1 1/2 cups sugar
2 eggs
1 teaspoon vanilla
1 1/2 cups toffee chips
1 cup chocolate chips
1 cup caramel bits
Sift together the flour, salt, and baking soda. Set aside.
Cream butter until fluffy. Add the sugar and continue to beat until light and fluffy. Beat in eggs one at a time, and vanilla.
Alternatively mix in the toffee chips and the flour mixture, a third at a time, until well blended. Chill cookie dough for at least an hour (or 30 minutes in the freezer).
Preheat oven to 350°F. On cookie sheets lined with parchment paper spoon out the cookie dough in small 1-inch diameter balls (size of a large marble). Place dough balls 3 inches away from each other on the cookie sheets.
Bake for 10-12 minutes, until the edges are just starting to brown. Remove from oven and let cool for a few minutes.