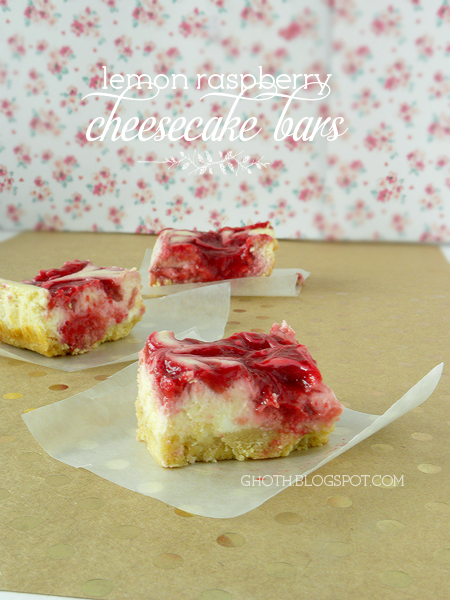 Happy Easter everyone! We usually do not celebrate Easter and the dogs wouldn't be keen in looking for Easter eggs. Since my husband is currently deployed, I decided to crash my friend Ana's Easter instead. We're not doing the usual Easter dinner with ham and the works. Instead, my friend Noel jokingly requested for a nacho bar buffet. Noel is making deviled eggs and I've settled for dessert as usual. Cookies didn't seem fitting, but after talking to Noel, we've decided cheesecake would be fitting.
I've only made cheesecake twice in my life, but thankfully this was an easy recipe and it turned out delicious! I'm not a fan of graham cracker crust, so I switched it to buttery shortbread and it's even better!
Lemon Raspberry Cheesecake Bars
recipe from
the bake chick
For the Crust:
1 1/2 cups shortbread cookies
4T butter
For the Cheesecake:
16 ounces cream cheese- room temperature
1/2 cup sugar
2 tablespoons lemon juice
Zest of a lemon
4 tablespoons milk
2 eggs- room temperature
1 teaspoon vanilla extract
For the Raspberry Swirl:
4 oz. of fresh raspberries (about 1/2 cup)
2 tablespoons sugar
Preheat oven to 350F. Line an 8x8 baking pan with parchment paper. Set aside.
For the crust:
In a medium sized bowl mix together the crumbs and butter with a spoon until moist. Press into the prepared pan and bake for about 10 minutes or until crust is set around the edges.
Make the filling:
Beat together the white sugar, and cream cheese until smooth.
Add the egg, milk, lemon juice, and vanilla and beat until smooth and creamy. Spread filling mixture over baked crust.
For the Raspberry Purée:
In a food processor or blender, purée the raspberries until smooth. Press through a fine mesh sieve, getting as much liquid out as possible. Discard the solids. Stir in the sugar.
Dot the raspberry mixture over the filling and use a toothpick or skewer to swirl together.
Bake for 30 minutes or until set around the edges and slightly jiggly in the center. Cool completely on a wire rack and then chill until cold before serving.