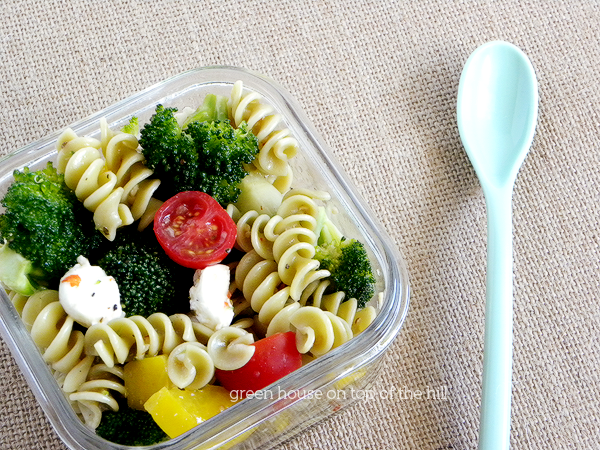 Gorgeous week here in the Northwest and I'm definitely not complaining. With the days definitely being longer.... I can see light in the horizon around 4am and it doesn't get pitch black til almost 10pm here. With the warmer weather, I've been craving for simple dishes... lots of salads and light food, nothing heavy, no greasy foods. Plus with the longer days, when it's really 9pm it feels like 7pm so I'm getting hungry later which is really bad. Also, I'm going away in a couple weeks for a week so I don't need to stock up and made sure I ate what I have instead.
Pasta salad sounded delicious! Perfect for lunch and dinner or take it to cook outs. I made mine meatless, but you're more then welcome to improvise and add in whatever you and your family enjoy. I also tried out
Barilla's veggie rotini
that is made from spinach and zucchini so that also added extra veggies to my dish. Very simple recipe, healthy dish and what's awesome is that I used whatever I already had at home to avoid running to the market.
Vegetable Pasta Salad
1 box Barilla veggie rotini (or whatever pasta you have on hand)
1/2 red onion, diced
3 crowns of fresh broccoli, chopped into bite-size pieces
1 yellow bell pepper, diced
a handful of cherry tomatoes, cut in half
8oz "Cherry Size" Fresh Mozzarella, cut in half
1 1/2 cup Wishbone Robusto Italian salad dressing
salt and pepper to taste
Cook pasta according to package directions. Drain and rinse with cold water.
While pasta is cooking, cut up all your vegetables and cheese and place in large bowl.
Add 1 cup of dressing to your veggies and mix to coat.
Once your pasta is done cooking and cooled down, add pasta to bowl.
Add in another 1/2 cup of salad dressing.
Season with salt and pepper to taste.
Let it sit in the fridge for at least a hour before serving.