One of my favorite Korean dishes aside from Korean BBQ and Bibimbap, Japchae is pretty up there. The first time I ever had Japchae was when we were stationed at Ft Drum, NY. If you're stationed up there, it's called
Koreana
. I miss that place!
Ever since I got back into Kpop (waaaay before Psy and Gangnam Style took over the world) and watching shows, I have been eating and cooking more Korean dishes. There's a tiny K-Town out here down S Tacoma Way and I'm lucky there's a couple Korean markets near by. They also recently opened up a H-Mart closer to my house *woot*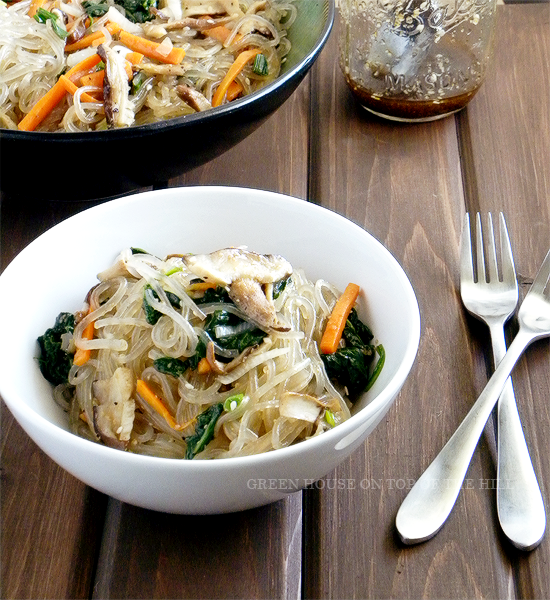 I posted
chicken stir-fry with japchae sauce
awhile ago and it's pretty much the same thing except this time, I used the right noodles and what a huge difference! I also doubled the sauce and mine turned out a little sweeter then the first time I made it. I wish there was a kick to it though... next time, I would add a little spice to it. You can also add beef like the original recipe, but I omitted that.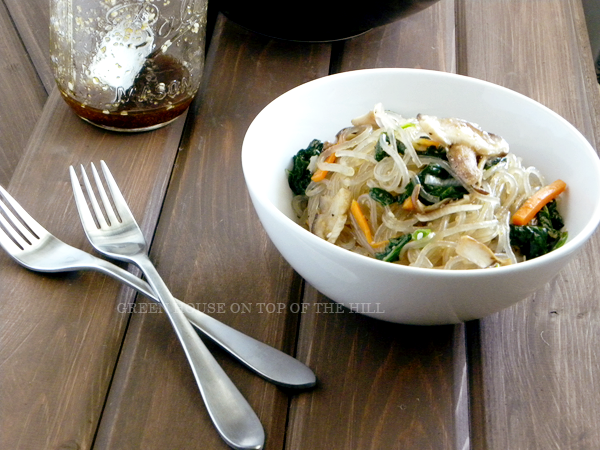 Japchae
recipe from
Korean Bapsang
6 ounces Korean potato starch noodles (dangmyeon)
4 - 5 dried shiitake mushrooms, soaked until plump
6 ounces fresh spinach
1 small carrot
1 small sweet onion
2 scallions
vegetable oil for stir frying
salt and pepper
Sauce:
3 tablespoons soy sauce
2 1/2 tablespoons sugar
2 tablespoons sesame oil
2 teaspoons minced garlic
2 teaspoons roasted sesame seeds
Combine all sauce ingredients in a small bowl and mix well until the sugar is dissolved.
Bring a pot of water to a boil, and cook the noodles according to the package directions (5-6 minutes). Rinse in cold water and drain. Cut the noodles with kitchen shears or a knife into 6 -7 inch lengths. Mix in 2 tablespoons of the prepared sauce in a large bowl.
Cut stems off the mushrooms and slice into 1/4-inch thin strips. Season with 1 tablespoon of the sauce.
Blanch the spinach in boiling water only until wilted. Drain quickly and shock in cold water. Squeeze out excess water, cut into about 2-inch lengths, and lightly season with salt and pepper.
Cut the carrot into match sticks. Thinly slice the onion. Cut the scallions into similar lengths.
In a large non-stick skillet, stir fry the noodles over medium heat, stirring frequently, until translucent and a bit sticky (about 3 - 4 minutes). Transfer back to the large bowl.
Stir fry each vegetable (except the spinach) separately with 1 teaspoon of oil over medium high heat, lightly sprinkling with salt and pepper, about 1 - 2 minutes. (Do not overcook. The vegetables should be crisp.)
Transfer the vegetables to the large bowl with the noodles as each is cooked.
Combine all the ingredients and the remaining sauce. Toss well by hand. Adjust the seasoning to taste by adding a little more soy sauce and/or sugar.