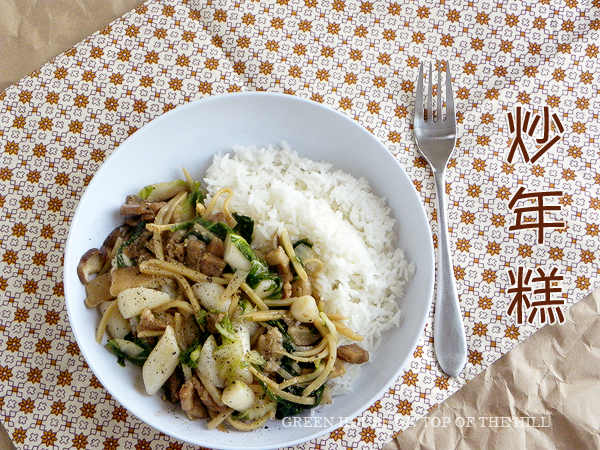 I don't if you guys know, but I'm Chinese/Taiwanese. 90% of the people I met in life has always questioned my nationality. Most people's first guess is always Korean then Vietnamese. Recently I had someone guess Filipino which is waaaay off. I've even had people ask if I was mixed. When they find out I'm Chinese, the first thing they ask is "Can you make me Chinese food?!" No. Sadly this Chinese cannot cook Chinese food. Besides, orange chicken and beef and broccoli is not even an authentic dish served in China or Taiwan for that matter.
So.. I don't think you guys know, but I'm also currently obsessed with KPOP, watching Korean TV dramas, TV shows/variety shows. My Mom is mad at me because all I watch is Korean shows and instead I should be brushing up on my Chinese. I originally bought rice cakes to make
Ddukbokkie | 떡볶이
, but instead I came across
Jayden's
Chinese stir-fried rice cake. I haven't had 炒年糕 since I was a kid! And I remember we use to eat it during Chinese New Years. So, when I found Jayden's recipe, there was no doubt in my mind that I had to make it and it was so good!
The recipe itself is extremely simple. It can be a little time consuming if you don't prep in advance because you need to marinade the pork, soak the mushrooms and rice cakes ahead of time. The recipe calls for Chinese rice wine. You will not be able to find this at your local grocery store and some Asian markets unless it's like 99 Ranch Market or you live in a heavily populated Asian city. I went to my local Korean market and nobody knew what Chinese rice wine was. If you can't find it, you can substitute it with
Shaoxing Wine
. If you can't find that either, I've read you can use dry sherry. DO NOT use cooking wine or sherry cooking wine.
I basically omitted it all together since I couldn't find any. Looking for the wine itself was more time consuming then prepping + cooking the recipe.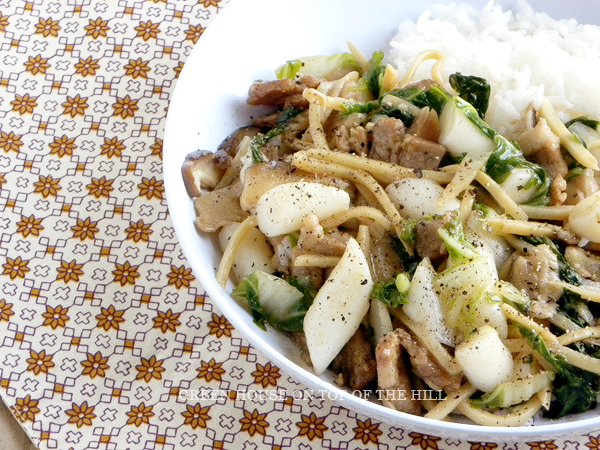 炒年糕 | Chinese Stir-Fried Rice Cakes
Original recipe from
Steamy Kitchen*
*please go to her blog to check notes on rice cake and mushrooms
One 24-ounce package fresh rice cakes
4 dried Shiitake mushrooms
2 teaspoons soy sauce
freshly ground black pepper
pinch of sugar
1 teaspoon cornstarch
2 slices of pork, cut into very thin strips
2 tablespoons cooking oil
6 ounces Chinese Napa Cabbage, shredded
One 6-ounce can julienne cut bamboo shoots, drained
2 tablespoons soy sauce
1/4 cup chicken or vegetable broth
1. In a large bowl, soak the fresh rice cakes for about 2 hours. Soak dried Shiitake mushrooms for 2 hours or up to overnight until softened. If you are using fresh shiitake mushrooms, skip this step.
2. In a medium bowl, combine the 2 tsp soy sauce, black pepper, sugar, rice wine, cornstarch together. Mix in the pork and marinate for 20 minutes or up to overnight in the refrigerator.
3. When you are ready to cook, have all of your ingredients ready. Drain the rice cakes. Drain the mushrooms and slice into very thin slices.
4. Heat alarge saute pan over high heat. When hot, swirl in the cooking oil. Add the pork and cook until browned and almost cooked through.
5. Add in the mushrooms and the bamboo shoots, stir fry for 1 minute. Add in the cabbage and stir fry for 2 minutes. Mix in the soy sauce.
6. Add in the rice cakes and toss very well. Pour in the broth, cover and lower the heat to medium-low. Cook for 2-3 minutes or until the rice cakes have browned a little and are softened. The sticky rice cakes will be just slightly chewy (but not hard to chew). Taste and add in additional soy sauce if needed. Serve immediately.