I've been taking foreverrrrr to make the rest of my R&R posts. Mostly due to laziness. We ate a lot while he was home since he couldn't eat majority of what we have here in the states over there. Plus, when he stopped in Japan, he had some Chili's and he wouldn't stop talking about it for a whole week! Too bad they don't have one here, but I have seen copycat recipes... so maybe I'll make him that when he comes home home.
For our anniversary, we usually don't do big grand gifts... a special dinner in or out plus spending time together is what we usually do. This year I got him a pair of shoes he's been wanting and I asked for
Ikea's RÅSKOG Kitchen cart
. Actually, it was more a huge hint of let's go to Ikea and spend copious amount of money to fix our home that we may or may not be living in for 2014. I really wanted the turquoise one but he got huffy and puffy so I ended up with the grey one. I'm currently using it in our upstairs bathroom to store perfume, extra lotions and my makeup brushes. I want another one for our downstairs pantry too.
Also, while hubby was home, we got lucky and got to catch one of the Cirque Du Soleil shows called
Amaluna
and it was
AMAZIIIING!
I've seen the O show a long time ago in Vegas, but this was my husband's first time. Definitely worth the money and if you're in the Seattle area, definitely go check it out!
Alright friends, that's that for the day. Hope you're all well!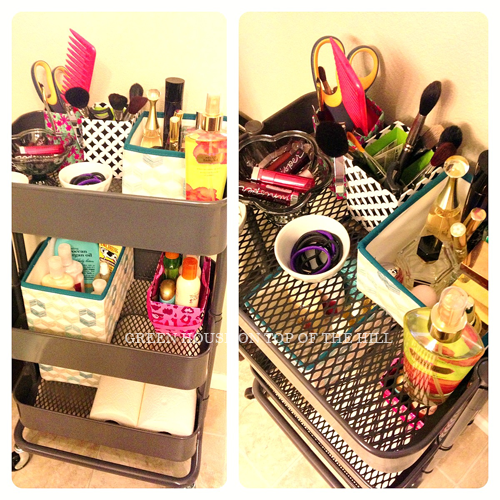 edit:
Evani
commented how I'm using the cart and this is what I have now. I picked up the bins from Ikea (comes in a 3pk for about $8) and the other containers I used I picked up from the dollar section at Target awhile back. The dish that is holding the
Maybelline Color Whisper
is also from Ikea.