Our last whole day and I could feel the tears well up at the smallest things, but I was a sport and kept on going to make the best of the day. Why ruin it with tears. The whole time he was home, we never did venture out to Seattle... we were always in nearby cities, but we decided we would go get his favorite
8oz Burger
in Capitol Hill. I love their rustic decor and using locally sourced ingredients. You can read more about them
here
.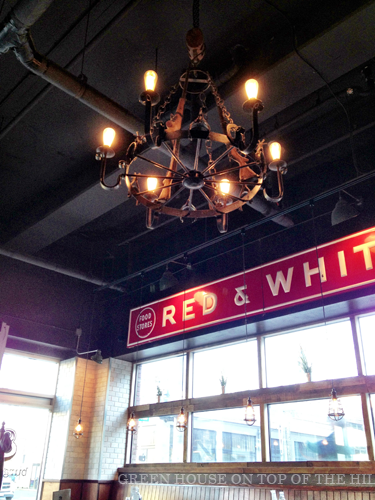 We started off with Beecher's mac and cheese (not pictured) and it is possibly the
best
mac 'n cheese I've ever had... we seriously devoured that the minute our waiter put it down. Hubby ordered their Classic 8oz while I tried their Banh Mi Burger. Oh my goodness my burger was so delicious! It's made with marinated beef/pork sausage patty with pickled daikon and carrots, cucumber, serrano peppers, liver pate and lemongrass siracha aioli all on a brioche bun. My mouth was on fireeee after I got a big slice of the pepper though, but oh so worth it.
We also ordered roasted garlic fries and bacon brussel sprouts. Truthfully, I think the way I make my brussel sprouts taste a whole lot better, but I've seen rave reviews on Yelp. I know that there's a million and one things to eat in Seattle, but if you're ever there, I recommend checking out
8oz
!
8oz Burger
1401 Broadway
Seattle, WA 98122 | 206.466.5989
8oz Burger
|
Seattle Website