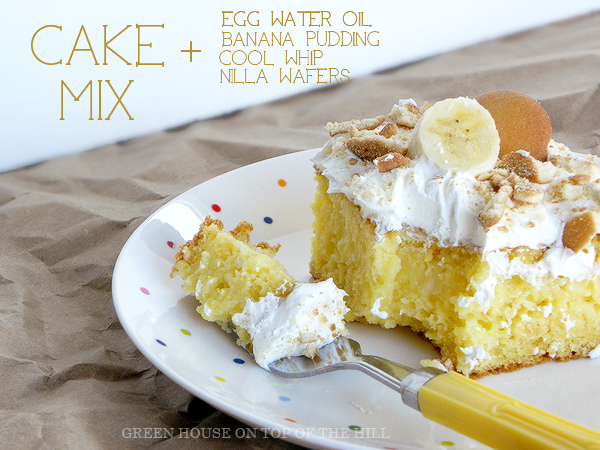 Have you seen this
pin
on Pinterest? So did I and I got pinspired and bought all the ingredients and then I got lazy... til today. Woke up, the sun was shining and bright (it's was 50F!) and quickly made the cake batter to pop into the oven while I let the dogs out.
I haven't ate too many pies in my lifetime, but aside from apple pie, banana cream always stuck out in my mind. I use to loooove the taste of banana or banana flavored things, which once in awhile I still do, but I rarely eat bananas now. Winter started pretty early here and I am definitely craving for a taste of spring! I'm thankful that today gave me a dose of what spring will be like and top it off with this dessert? OHHH YEEEA.
Isn't Easter at the end of this month too? This would surely make a great dessert to serve! I would even make these into cupcakes and definitely let the pudding set just a little before pouring over the cake. I... Well, I got too impatient and added the cool whip too soon. Not only was it not fully thawed, it created a huge mess just trying to spread it. Also, I could only find
one
package of banana pudding at my local Safeway. Who knew banana pudding was so in demand right now?! Neither did I.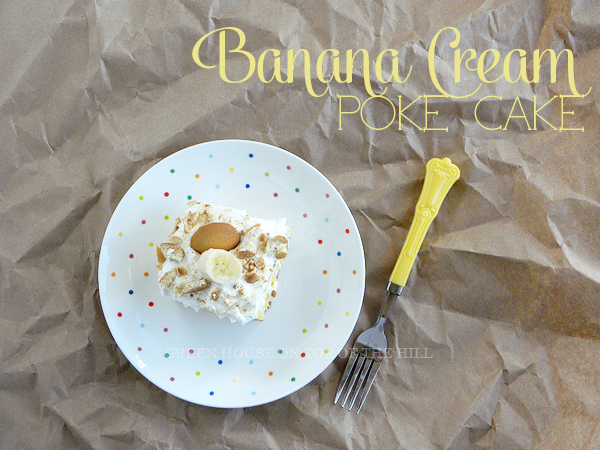 Banana Cream Poke Cake
Original recipe from
the country cook
1 10 oz. box yellow cake mix, follow instructions on the back of package
1 package instant banana pudding
3 cups milk
1 tub frozen whipped topping, thawed
15-20 vanilla wafers, crushed
Prepare the cake according to package directions.
Let it to cool and poke holes all the way through the cake (I used a chopstick since that's all I had).
Whisk banana pudding into milk and let sit for a minute.
Spread over cake and make sure to push pudding into the holes.
Place cake into fridge so pudding can set.
Spread thawed cool whip and top with crushed nilla wafers.
Keep refrigerated.