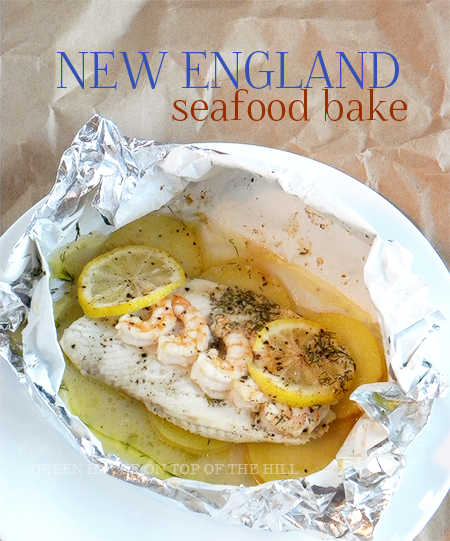 After a week long rain, it was actually sunny out. After sitting around thinking what to make, I knew I had to get up and start prepping before the sun set. Luckily the sun didn't officially set til a good hour later. I made this summer of last year and even my picky husband liked it which is always a win win! This time around, I made a packet for one and literally devoured it!
Everyone loves a simple, quick, no fuss no mess dinner. I know I definitely do. I admit to being lazy and letting the sink pile high with dirty dishes from time to time. It just happens. Since I was rushing for this recipe, I just used frozen tilapia, which worked just fine. I would bake it about 20 minutes... I baked mine 5 minutes more and my fish was just a little overdone.
Also, I'm planning a giveaway soooooon, so make sure you follow me on
Blog Lovin
so you don't miss out! :)
New England Seafood Bake for One
Original recipe from
The Comfort of Cooking
2 TBsp butter, room temperature
1 tsp finely chopped fresh dill, plus more for garnish
1 garlic clove, minced
Coarse salt and ground pepper
1 small golden potato, scrubbed and thinly sliced
1 boneless tilapia filet
5 raw shrimp, thawed, peeled and deveined
1/2 lemon, juiced
Preheat oven 4000F.
In a small bowl, combine butter, dill, and garlic; season with salt and pepper. Set aside.
To assemble packets: Arrange potatoes in a single layer; top with fish, then shrimp in the middle of your foil. Drizzle with fresh lemon juice and cut the squeezed lemons into thin slices. Season packets generously with salt and pepper.
Add three small dollops of the butter mixture and two lemon slices to each packet. Fold foil over ingredients, and crimp edges tightly to seal.
Bake 20 minutes. I recommend serving it with a side of greens.