I can't believe it's already been a week since my last Sunday Social and another week with no new posts! I do have a couple drafts I have been meaning to finish up..... hopefully this week will be a better blog week.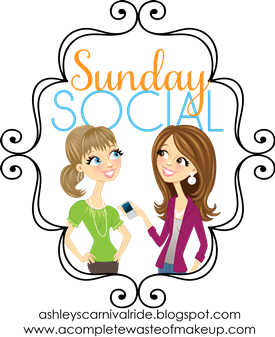 Top 3 Favorite Kinds of Food
Asian... Vietnamese, Chinese/Taiwanese (authentic only), Japanese, Korean, Thai nomnomnoms. I'm also a sucker for cake and steak, but not together.
First 3 Things you do in the morning
Check email, Weather app and My games... all the while holding in my pee!
Last 3 Things you do at night
Shower, watch my shows and things on Youtube/Netflix etc and have Maggie lick my feet :)
3 TV shows you NEVER miss
Revenge, Hart of Dixie and American Horror Story
3 Places you want to visit
Korea, Europe and probably go back to Taiwan.
3 People you can always count on
I have learned that people kinda suck. Aside from my mom, I would say Jenny and sometimes my hubby when he's not too busy playing video games.