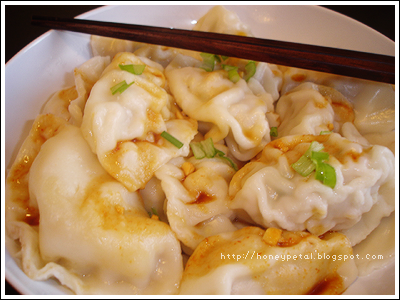 You can buy the ones in the frozen aisle, but there's just something about homemade potstickers that brings back memories of my family and that one summer trip my brother, Jefferson and I took in China. Called my mother for her recipe, which is pretty simple, the process of making the meat filling does take about 30 mins, filling it and pleating was pretty easy after you get the hang out of it- Which i didn't til the last 5 of them haha.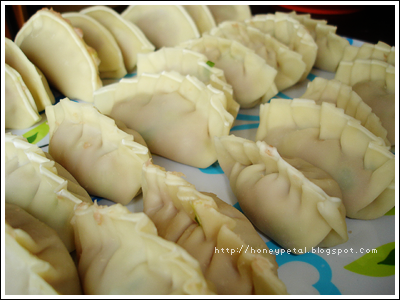 Pork and Cabbage Jiao Zi
1 lb. Lean Ground Pork
Napa Cabbage (if you can find it, use regular cabbage)
Green Onions (scallions- optional)
1 Tsp Sesame Oil
Water
Kosher Salt
1 Tsp Cornstarch
Dumpling Wraps (the circle kind)
1 Clove of Garlic, minced
Soysauce
Sriracha Sauce
Filling:
Cut the cabbage into small pieces. Place it in a bowl and sprinkle in about 1/2-1 cup salt. Let it sit for 30 minutes. Squeeze out excess water. In another bowl, mix in the ground pork, napa cabbage, green onions, 1 tsp sesame oil and 1 Tsp Cornstarch.
Sauce:
1/4 Cup soysauce
dash of sesame oil
1 Tsp Sriracha Sauce
Minced Garlic
Process:
Make sure your dumpling wraps are thawed if frozen! Put about a teaspoon of filling in the center of wrap. Using your finger to dab the outter circle with water. Fold in half like a taco, pinch in the sides.
Bring a pot of water to boil. Add in your dumplings, gently stirring it so they won't stick. Bring to a boil, add a cup of cold water and then cover with a lid. Bring it back up to another boil, add another cup of cold water. They should float to the top. Check the meat to see if it's done- Should be white. Drain and serve hot.
Terrible explanation i know. But here's a
video
to help you better understand the pleating :)
*NOTE*
Sorry for the misunderstanding, but the video i linked above is not mine. Its just a video i found on youtube and thought it would help you better understand how to pleat. Again, sorry you guys!