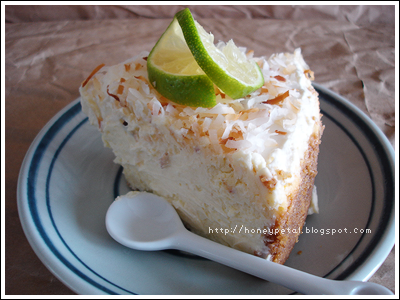 I've been dying to make a cheesecake ever since i bought a springform pan. I found this New York style cheesecake recipe from
Joy of Baking
which looks really good and i pretty much had everything on hand already. I also had a bunch of leftover limes i wanted to use up and i added the toasted coconut to give it more texture. Before this recipe, i have never truly made cheesecake, except the box kind (don't laugh, i wasn't into the cooking back then) and no bake cheesecakes. I've heard of people overbeating the cream cheese or getting the crack when baking, and even i amazed myself when i pulled it out of the oven with no cracks to be seen *grins* Yeah, i'm pretty proud of myself :) Anyways, I added a bit of fresh lime zest and juice instead of lemon, regular graham crackers and i topped it with some toasted coconut. After i took it out of the oven, i did let it cool completely and put it in the fridge overnight and topped it with the coconut the next day. When i had a slice on the second day, the taste of lime was pretty faint, but if you let it sit in the fridge for a few days, the flavor starts to come out more. It was pretty darn good. It was very rich and creamy. I gave some to a friend last night and she texted me saying that it was Effing delicious! Of course that makes me a happy panda ♥
Lime Cheesecake with Toasted Coconut
Original recipe by Joy of Baking
Crust:
2 cups graham cracker crumbs
1/4 cup granulated white sugar
1/2 cup unsalted butter, melted
Filling:
4 - 8 ounces packagescream cheese, room temperature (use full fat, not reduced or fat free cream cheese)
1 cup granulated white sugar
3 tablespoons all purpose flour
5 large eggs, room temperature
1/3 cup heavy whipping cream
2 limes- zest & juiced
1 teaspoon pure vanilla extract
Topping:
1 cup sour cream (not low fat or fat free)
2 tablespoons granulated white sugar
1/2 teaspoon pure vanilla extract
New York Cheesecake:
Grease, or spray with Pam, a 9 inch (23 cm) springform pan. Place the springform pan on a larger baking pan to catch any leakage while the cheesecake is baking. Preheat oven to 350 degrees F (177 degrees C) with rack in center of oven.
For Crust:
In a medium sized bowl combine the graham cracker crumbs, sugar, and melted butter. Press the crumbs evenly over the bottom and about 1 inch (2.5 cm) up the sides of the springform pan. Cover and refrigerate while you make the filling.
For Filling:
In bowl of your electric mixer place the cream cheese, sugar, and flour. Beat on medium speed until smooth (about 2 minutes), scraping down the bowl as needed. Add the eggs, one at a time, beating well (about 30 seconds) after each addition. Scrape down the sides of the bowl. Add the whipping cream, lemon zest, vanilla extract and beat until incorporated. Remove the crust from the refrigerator and pour in the filling. Place the cheesecake pan on a larger baking pan and place in the oven.
Bake for 15 minutes and then lower the oven temperature to 250 degrees F (120 degrees C) and continue to bake for about another 1 1/2 hours or until firm and only the center of the cheesecake looks a little wet and wobbly. Remove from oven and place on a wire rack.
Meanwhile, in a small bowl combine the sour cream, sugar, and vanilla extract. Spread the topping over the warm cheesecake and return to oven to bake for 15 more minutes. Remove from oven and carefully run a knife or spatula around the inside edge of pan to loosen the cheesecake (helps prevent the surface from cracking as it cools).
Let cool before covering with plastic wrap and refrigerating. This cheesecake tastes best after being refrigerated for at least a day.