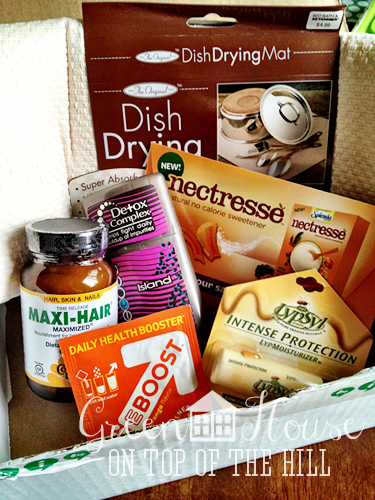 I received my first
Influenster
box a couple weeks back! What is Influenster? You get invited to receive a box of products and exclusive deals. You can read more about it on their website
here
. One thing that caught my attention was that Influenster is NOT a subscription site! Everything is absolutely free, but qualifying for a box itself is a bit challenging. You're not guaranteed a box and I feel like it's all about luck.
So, I was really excited to receive the Naturals box, but found it to be slightly disappointing after I opened it. Whether it's a paid or free box, you can't win at every single item. When I first opened it, the first thing that caught my eye was the
Lypsyl lip balm
, which I already own. I personally really like this item, especially for the harsh winter months when your lips become extremely dry and chapped. So, for me, it's nice to just have an extra one. You can also check out their
Facebook
.
Second item that caught my eye was
The Original Dish Drying Mat
which I'm pretty sure if you've been to Bed Bath & Beyond, you've seen it. Even though this item retails at $4.99, I never thought to actually purchased it, so I'm glad to have received it for free. The mat itself is great for me even though I already own a dish drying rack, but you can only load it up so much. The mat is great for the extras that doesn't fit on your dish drying rack AND it doesn't soak through! Check out their
Facebook
.
The other items like
GeoDeo
,
EBoost
,
Nectresse
and
Maxi-Hair Vitamins
were on my least favorite items. The Nectresse wasn't too bad, but I haven't been using any sugar/sugar substitutes lately in my tea. I did try the GeoDeo and I personally don't care for it. It has a good smell, but protection wise is pretty weak. I still have yet to try EBOOST or the Max-Hair Vitamins. For me personally, I take enough pills and honestly, I'm just not interested at all.
For some reason, my emails are indicating I received
CleanWell Wipes
, which I
did not
receive, but I have used their wipes in the past thanks to Birchbox. I actually
LOVE
these wipes and I love that they don't have alcohol because sometimes alcohol dries out my hands. You can check out their
Facebook
.
I received these products complimentary for testing purposes from Influenster. I am not paid or sponsored by them, these are my own reviews.