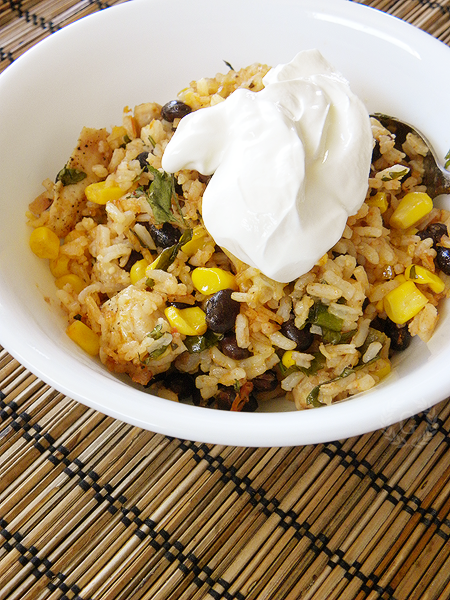 Now and days I'm feeling too lazy to slave away in the kitchen, so any quick and simple meals are a plus in my book! I found this recipe over at
The Creative MaMa
and have been wanting to try it for quite some time now. There's only 3 ingredients used with a knife, 1 ingredient used with a can opener, 1 pot, 1 baking sheet, 1 casserole dish and arm strength. Easy peasy! The ending result is yummy in your tummy!
Mexican Chicken and Rice Casserole
Original recipe from
The Creative MaMa
2 cups cooked rice (white or brown)
3 chicken thighs, cooked (i baked salt & peppered mine and baked at 375F for about 30 minutes)
1 cup frozen corn, thawed
2 green onions, sliced
1 can black beans, drained and rinsed
1 cup salsa
1 teaspoon chipotle chili powder
1 teaspoon oregano
salt and pepper
juice of 1 lime
2 cups shredded cheddar and Monterey Jack cheese
cilantro
sour cream
1) Cut up chicken into bite size pieces. Chop cilantro, slice green onions.
2) In a large bowl, combine rice, beans, corn, chipotle powder, oregano, salt and pepper.
3) Add the chicken, salsa, cilantro, green onions, and about half of the cheese. You want to save some for the top.
4) Mix Mix Mix and taste to see if you need more seasoning.
5) Press it into a casserole dish that you have sprayed with cooking spray.
6) Cover with remaining cheese.
7) Bake in a 375 degree oven for about 25 to 30 minutes.