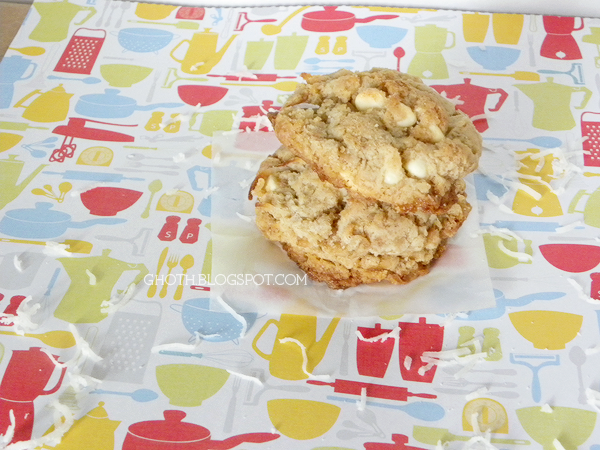 On the first day of summer, all I wanted to do was BAKE BAKE BAKE! Surprisingly, the sun was out and about, but I didn't have anywhere to go. I actually started off trying to make french macarons, but it was an epic fail. I've never baked something where it didn't turn out, so I was pretty disappointed. The batter came out too runny, it never got its "feet" and when I baked it, it got mutant feet and spread into each other.
I whipped up some of these cookies just to try and I am now planning to bring them to Bunco night on post. They turned out pretty sweet. I added way more coconut than the recipe intended, but I think I would like to toast them next time and add less toffee chips (I kind of added the whole bag).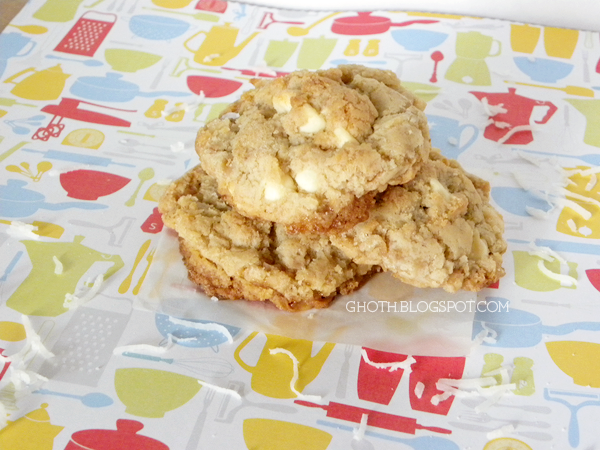 Coconut Toffee with White Chocolate Chip Cookies
original recipe from
lick the bowl good
1 cup unsalted butter, softened
3/4 cup granulated sugar
3/4 cup packed brown sugar
1 egg
1/2 tsp. vanilla extract
2 1/4 cups all purpose flour
1 tsp. baking soda
1/2 tsp. salt
1 pkg toffee bits
1 cup white chocolate chips
1 cup shredded coconut
Preheat oven to 375 degrees.
Cream butter and both sugars together, then add egg and vanilla, stir.
Mix in flour, baking soda, and salt just til combined. Stir in toffee bits, white chocolate and coconut.
Drop dough by rounded teaspoonfuls onto ungreased cookie sheet. Bake for 10-12 minutes or until lightly golden. Allow to cool for a couple minutes before removing to a rack to cool completely.