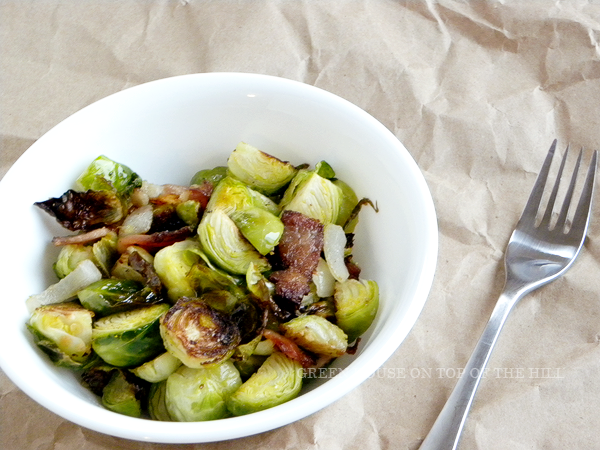 If you just hopped on over from
Melissa's
blog, Hiiii! If not, Hiii anyways. Roasted Brussels sprouts is one of my favorite last minute dinner ideas. I get lazy from time to time and sometimes, I don't even want to get in the car to pick up something. As long as I have either Brussels Sprouts or fresh broccoli, I always roast them. One foil lined baking sheet = no clean up!
Also, I accidently scheduled this post for MARCH instead of April, so sorry if the link from her post doesn't bring you to the right place. Fail on my end.
Roasted Brussels Sprouts with Bacon
10-15 Brussels sprouts, cut in half or quarters
a good drizzle of extra virgin olive oil
1 TBsp of chopped garlic
salt and pepper to taste
2 strips of bacon*, cut in to bite size chunks
1 TBsp of chopped onion
Preheat oven to 375F.
Put cut up brussels sprouts on foil lined baking sheet.
Drizzle with EVOO, garlic salt and pepper. Add bacon and onion. Mix.
Bake 15 minutes. Mix it up a bit.
Put back into the oven and bake another 5 minutes.
* You can omit the bacon and instead add in some balsamic vinegar, sprinkle with parmesan cheese or a squeeze of lemon.