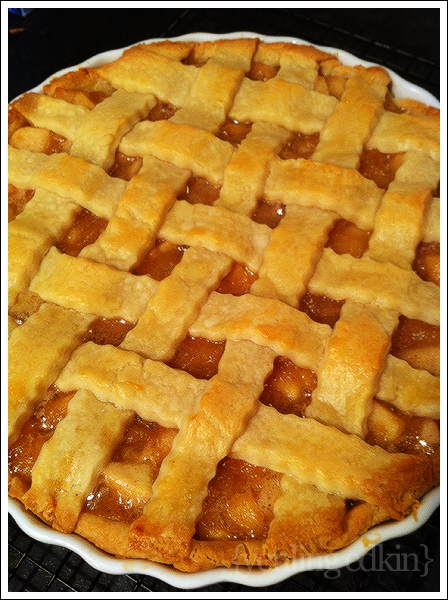 Rustic Double-Crust Apple Pie
Recipe from Pies, Pies & More Pies by Viola Goren
Pastry Dough
3 1/2 cups all-purpose flour, plus more for dusting
3/4 cup sugar
2 1/2 sticks unsalted butter, cold and cut into small pieces
2 large egg yolks
1/4 cup cold heavy whipping cream
Filling
1 stick unsalted butter
3 Granny Smith Apples and 4 Delicious apples, peeled, cored and cut into 1/2 inch cubes (I squeezed a lemon over mine to avoid browning)
3/4 cup sugar
1/2 tsp ground cinnamon
Egg Wash
1 egg yolk with 2 tsp of water.
Prepare Pastry
In an electric mixer fitted with paddle, mix flour, sugar and butter until texture is sandy. Add egg yolk and cream, mixing until dough forms. Shape into a thick round, wrap with plastic cling wrap and refrigerate for 1 hour.
Divide chilled dough into two pieces, with one piece about twice as big as the other. Return smaller piece to fridge. On a lightly floured surface, roll out dough about 1/4 inch thick and cut into a 12-inch round. Wrap dough loosely around rolling pin and transfer to 9-inch pie pan. Trim edges and freeze for 30 mins.
Preheat oven to 340F. Line chilled pie shell with parchment paper and fill with baking weights (or raw beans). Bake until crust is dry and lightly golden, about 15 minutes. Remove paper and weights and bake until crust is golden and baked through, 10-15 minutes. Transfer to wire rack to cool.
Prepare Filling
In a large pan, melt butter over medium heat. Add apples, sugar and cinnamon, cook for about 10 minutes, until apples are soft. Remove from heat and set aside to cool.
Transfer apple pie filling to baked pie shell and even out. On a lightly floured surface, roll out smaller piece of dough into a 10-inch round. Place dough on top of filling and crimp edges to seal.** Cut out shapes to make slits on top to vent. Brush with egg wash and bake until top crust is golden, about 40 minutes. Transfer to wire rack to cool.
** We lattice weaved ours.