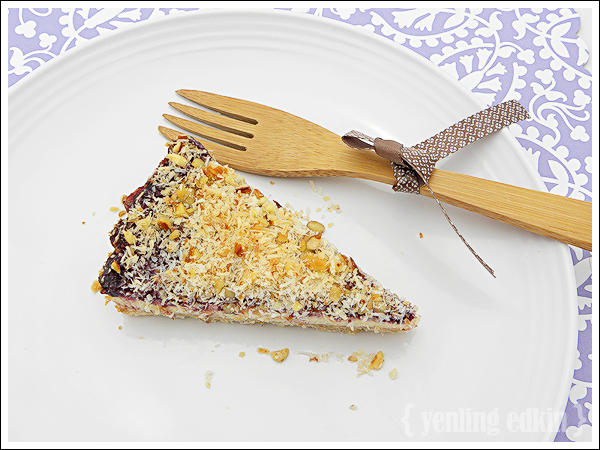 Did you know that when i first decided to start a food blog, it was mainly more cooking than baking? Then i moved back home (good ole sunny Southern California) and it became more baking than cooking? For the past 8 months, i've stuck to mainly baking cookies. I've ventured out making madelines a few times, cake and cupcakes a few times, blondies a few times, but I always come back to the cookies. Except this time i decided to make bars. Cheesecake bars to be exact. I was surfing my
favorites
on
Foodgawker
the other night for some kind of a motivation and my belly were eyeing up these babies from
Zoomyummy
. She used Raspberry, but i think you can use whatever preserve/jam your little heart desires. The shredded coconut is optional and its easy to change up to your own personal taste. My mom
LOVED
these!! She didn't say that because she's my mom... she really meant it. She's usually very picky about the sweetness in my goods, but this one was just right. My friend Jenny says they're better than the S'more Cookies which was rated the highest of all my other yumyums.
Marionberry Cheesecake Bars
Original recipe from ZoomyummyCrust:
1 1/4 cup all-purpose unbleached flour
1/2 cup oraganic cane sugar
1/2 cup chopped almonds
1/2 cup unsalted butter, room temp
Filling:
2 8oz cream cheese, softened
2/3 cups oraganic cane sugar
2 eggs
1 tsp almond extract
2 TBsp all-purpose flour
1 cup marionberry fruitspread
1 cup shredded coconut, optional
1) In a large bowl combine the chopped nuts with the flour and sugar.
2) Add butter and using your fork, combine the mixture until it looks like crumbs. Set aside 1 cup of crumb mix.
3) Press the crumb mix into the bottom of a 13x9 baking pan.
4) Bake at 350F oven for 12-15 minutes until edges are golden.
5) Combine cream cheese with sugar using your electric mixer. Beat in eggs, 1 at a time. Add the almond extract and make sure you scrape down the sides.
6) Add 2 TBsp flour and mix again.
7) Pour cream cheese mix over the hot crust and spread it evenly.
8) Put in back into the oven to bake for about 15 minutes. Remove.
9) Pour the preserves/jam over the hot cream cheese mix, spreading it evenly.
10) For the topping, mix the shredded coconut with the reserved crumb mix. Sprinkle evenly on top of the cream cheese/preserve layer.
11) Bake for another 20 minutes or so. Remove and cool pan on wire rack. Chill in the fridge for at least 3 hours before cutting. Store leftovers in fridge.