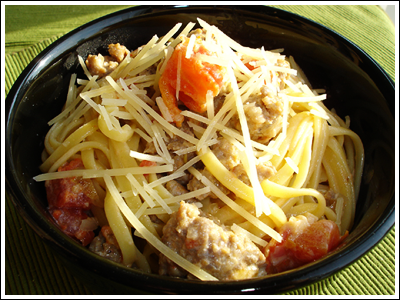 This use to be my go to dinner recipe. Simple and quick, perfect for the every day week night meal.
Fettuccine with Creamy tomato italian sausage sauce
Recipe from Simply Recipes
2 Tbsp olive oil
3 shallots, chopped
2 large garlic cloves, chopped
1/2 pound sweet Italian sausage, casings removed
1/2 pound spicy or hot Italian sausage, casings removed
1 cup whipping cream
2 14.5-ounce cans diced tomatoes in juice
1 Tbsp dried sage
3/4 pound fettuccine
1/2 cup grated Parmesan cheese
Heat oil in heavy large pot over medium-high heat. Add shallots and garlic and sauté until beginning to soften, about 3 minutes. Add sausages and sauté until no longer pink, breaking up the sausages a bit, about 5 minutes. Add cream; simmer 5 minutes. Add tomatoes with juices. Add sage. Simmer until sauce thickens, stirring occasionally, about 15 minutes.
Meanwhile, cook pasta in large pot of boiling salted water until just tender but still firm to bite. Drain pasta, reserving 1/2 cup cooking liquid.
Return pasta to same pot; add sauce. Toss over medium heat until sauce coats pasta, adding reserved cooking liquid by 1/4 cupfuls if mixture is dry. Season with salt and pepper. Transfer to bowl; sprinkle with cheese and serve.