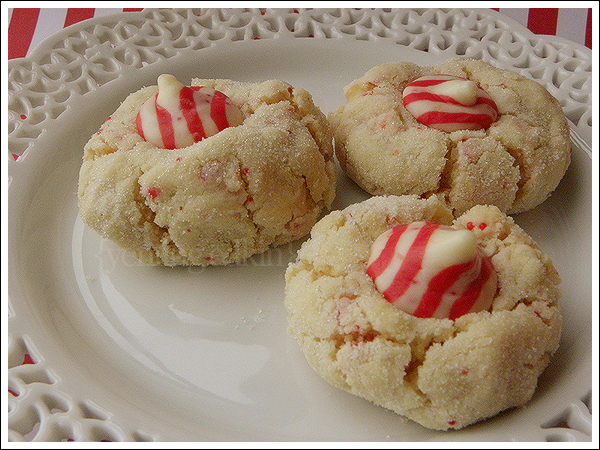 Candy Cane Kiss Cookies
Recipe from Recipe Girl
1 1/2 cups powdered sugar
1 1/4 cups butter, at room temperature
1 tsp peppermint extract
1 tsp vanilla extract
1 large egg
3 cups all-purpose flour
1 tsp baking powder
1/2 tsp salt
1/2 cup finely chopped Candy Cane flavored Hershey's Kisses
granulated sugar
additional, unwrapped Candy Cane Kisses- about 30
1. Preheat oven to 350°F.
2. In large mixer bowl, combine powdered sugar, butter, extracts and egg. Beat at medium speed, scraping bowl often until creamy (2-3 minutes). In a separate bowl, whisk together flour, baking powder and salt. Add to wet mixture and beat, scraping bowl often until well blended (1-2 minutes). The mixture will be a bit crumbly. Stir in chopped Kisses.
3. Shape dough into ¾-inch to 1-inch balls; roll in granulated sugar. Place 1-inch apart on cookie sheet. Bake for 10-12 minutes or until set. As soon as they come out of the oven, press a Candy Cane Kiss in the center of each cookie. They'll crack a little around the edges, so just use your fingers to kind of hold the cookie together while you set the kiss inside.