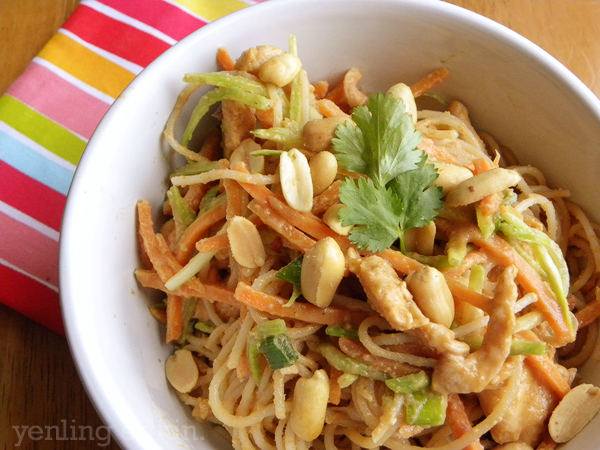 Asian Peanut Noodles with Chicken
Original recipe from Gina
Peanut Sauce:
* 1 1/2 cups fat free chicken broth
* 6 tbsp peanut butter
* 1 tbsp Sriracha chili sauce
* 2 tbsp honey
* 2 tbsp soy sauce
* 1 tbsp freshly grated ginger
* 2 cloves garlic, crushed
Chicken:
* 16 oz chicken breast, cut into thin strips
* salt and pepper (to taste)
* 1 tbsp Sriracha chili sauce (more or less to taste)
* juice of 1/2 lime
* 2 cloves garlic, minced
* 1 tbsp fresh ginger, grated
* 1 tbsp soy sauce
* 8 oz rice noodles (I used rice stick noodles)
Veggies:
* 3/4 cup green onion, chopped
* 1 1/4 cups shredded carrots
* 1 1/4 cups cup shredded broccoli slaw
* 2 tbsp chopped peanuts
* 1 lime, sliced
* cilantro for garnish (optional)
For the peanut sauce: Combine 1 1/2 cup chicken broth, peanut butter, sriracha, honey, soy sauce, ginger, and garlic in a small saucepan and simmer over medium-low heat stirring occasionally until sauce becomes smooth and well blended, about 5-10 minutes. Set aside.
Boil water for the noodles cook pasta according to package instructions.
Season chicken with salt and pepper, sriracha, lime, garlic, ginger and soy sauce.
Heat a large skillet or wok until hot. Add oil and sauté chicken on high heat until cooked through, about 2-3 minutes; remove from heat and set aside. Add 2 cloves crushed garlic, scallions, carrots, broccoli slaw and/or bean sprouts and salt, sauté until tender crisp, about 1-2 minutes.
Mix everything together in a large bowl.